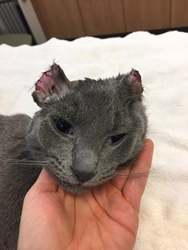 MOUNT RAINER, Md. (PRWEB) January 10, 2018
A young cat was brought to Prince George's County Animal Shelter with an array of wounds to his ears, limbs and tail that left him limping and weak. His ears were gashed open and some of his toes were hanging on by threads. It was clear that this poor cat had been through extreme cruelty. Because of the severity of his injuries and necessary treatment, we came in to rescue this traumatized cat.
It was immediately clear that these injuries were the result of intentional animal cruelty. Our veterinarian assessed him and his prognosis was worse than we could have anticipated. She examined the wounds and estimated the cat had been tortured over a period of three weeks. This 8 month old cat had slowly suffered with no veterinary care or compassion. The abuser had tied his tail and limbs tightly and had cut his ears. His tail and two of his toes required surgical removal. We were humbled by his ability to trust and interact with us after he had gone through so much.
He started out as an unknown victim of animal cruelty but has now become Hardy, ACR's affectionate and trusting little boy. The name Hardy means courageous and able to overcome difficult circumstances. This only begins to describe Hardy's resilient personality. Right now Hardy is receiving love and compassion for likely the first time in his life. He is recovering and is undergoing continued veterinary care. People interested in following his story can keep up to date on our Facebook page: https://www.facebook.com/alleycatrescueinc/.
Alley Cat Rescue is offering a $2,500 reward for information that leads to the arrest and conviction of the person or persons responsible for the abuse. If you know anything about Hardy's case please contact Prince George's County Animal Control at 301-780-7200.
About Alley Cat Rescue: ACR is a national nonprofit organization dedicated to the welfare of all cats: domestic, stray, abandoned, and feral. ACR advocates for humane nonlethal control of feral cats. ACR has been awarded the Independent Charities of Americas "Best in America" Seal of Approval, and our newsletter has won several awards from the Cat Writers' Association. For more information, please visit our website http://www.saveacat.org. ###