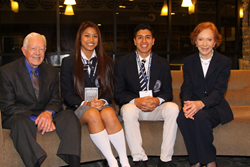 A one in a million friendship with the Carter's!
Panorama City, CA Pasadena, CA Los Angeles, CA (PRWEB) January 11, 2018
St. Genevieve High School in Los Angeles has enjoyed a unique relationship with former president Jimmy Carter and his wife Rosalynn. His story is well known to millions. Students at the school decided four years ago it was time to sing the song of one of the world's greatest unsung heroes of modern history. They received permission from their friend, Miss Rosalynn, to film a documentary.
Rosalynn Carter "loves St. Genevieve" so much that she gave students the honor of telling her story in documentary form. It has been a labor of love for students for more than three years. On February 2, 2018, Mrs. Carter, along with family and friends from both her hometown of Plains, Georgia, will join her St. Genevieve family at the Rose Bowl to premiere of Dear Rosalynn on the jumbo-tron.
Students, staff, and parents from both St. Genevieve Elementary School and High School will be present for the unveiling. Mrs. Carter.
For more than a decade the school has enjoyed a friendship with the Carters that has had students and staff traveling to Plains as well as visits from the former first couple to the school.