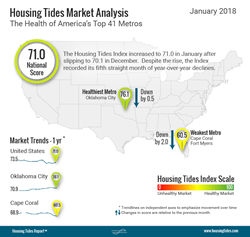 Overall, it appears the mortgage delinquencies associated with the hurricane season have not translated into an increase in foreclosure activity, with the U.S. foreclosure rate falling in each of the last 21 months.
DENVER (PRWEB) January 11, 2018
This week marks the release of the January 2018 Housing Tides Report™, featuring an update to the Housing Tides Index™, an objective and sophisticated approach to quantifying and comparing the health of U.S. housing markets.
Understanding the health of a housing market and its relationship to other top markets requires an aggregated, comprehensive view of the industry. The Housing Tides Index provides a succinct monthly measure of market health across the top 41 U.S. markets. Referencing 18 market indicators ranging from unemployment rates and housing permits to rental vacancy and mortgage foreclosure rates, the Tides Index helps users understand exposure at a deeper level than is currently possible.

Driving the increase in the Index this month was an improvement in the ratio between employment gains and U.S. housing permits. The U.S. economy added 2.35M jobs in the year ending October 2017 while homebuilders gained approval for 1.21M new homes. This makes for a ratio of 0.51 homes per job added, just on the bottom end of our target healthy range. Still, anecdotal evidence of housing shortages, increases in home prices that continue to outpace wage and general price inflation, and the tight supply of housing for sale (3.1 months of supply in November) all demonstrate that housing markets would better satisfy pent-up demand with a ratio closer to one new home per job added.
After reaching its highest level in 17 years in November, The Conference Board's Consumer Confidence (CCI) Index fell in December due to less optimistic expectations for economic and employment opportunities in the months ahead. Nonetheless, the Consumer Confidence Index remains solidly in positive territory with the present conditions components of the Index conveying a positive assessment of the economy. The CCI is up to 122.1 from 113.3 one year ago. The CCI will be a valuable indicator for gauging public opinion about the changes to tax policy – and their effects on the U.S. economy – as the year progresses.
U.S. mortgage delinquency increased again in October, with 4.44% of loans 30 or more days past due, up from 4.40% in September and 3.93% in September. Black Knight Financial Services blames the increase in delinquencies to hurricanes, noting that "delinquencies fell 14BPS in non-hurricane impacted areas... Over 229K past-due loans can now be attributed to Irma (163K) and Harvey (66K) representing over 10 percent of the national delinquent loan population." Florida has been most affected, with the mortgage delinquency rate more than doubling post-Irma, rising from 3.9% in August to 9.0% in October. The Texas delinquency rate was unchanged at 6.9% in October. Overall, it appears the mortgage delinquencies associated with the hurricane season have not translated into an increase in foreclosure activity, with the U.S. foreclosure rate falling in each of the last 21 months.
Single-family permits fell 7.6% in aggregate across the top MSAs tracked by Housing Tides, with 31,700 permit approvals in November following 34,300 in October. In the months to come we expect another seasonal decrease in single-family housing permits with a strong rise as warmer weather approaches.
Please reference the attached graph to view the Ten Healthiest U.S. Housing Markets - January, 2017.
Click here to view the complete Housing Tides Index of the top 41 U.S. markets.
Media Exclusive. Housing Tides Media Monthly Pulse.
Subscribe to our email service exclusively created for media which delivers an updated infographic depicting the latest monthly Housing Tides Index, the complete Index as it appears in the Housing Tides Report™, and a brief executive summary. All content can be shared in print and digital publications, with attribution to the Housing Tides Report.
Members of the media can subscribe to the Housing Tides Media Monthly Pulse here.
About Housing Tides
Housing Tides™ ("Tides") is the only monthly report that provides a comprehensive measure and aggregated understanding of the health of the U.S. housing and home building industry. Designed to take the guesswork out of the vast amount of forecasting information published about this sector, Tides is a sophisticated report that delivers city-specific, updated information when market conditions change. It is the only report that uses natural language processing and machine learning to correctly understand and synthesize large volumes of data, making it more comprehensive, balanced, and reliable than any other report of its kind. For further information, please visit housingtides.com and connect on Twitter, Facebook, and LinkedIn.
Housing Tides is proudly partnered with IBM Watson®.