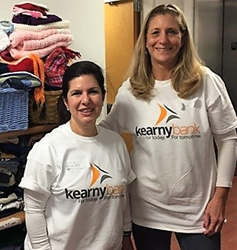 Fairfield, NJ (PRWEB) January 11, 2018
Recognizing the serious challenge winter conditions pose for those without suitable food, clothing, or shelter, Kearny Bank recently sent a team of busy small business bankers to lend a hand at the Lunch Break, a charitable organization that serves Monmouth County, NJ and beyond.
Nine Kearny Bank Small Business Bankers spent time at Lunch Break's Red Bank facility, helping local clients shop in the pantry area, unloading trucks, stocking shelves, folding donated clothes, and much more. Lunch Break provides hot meals, warm clothing, companionship, and life skills training to residents in and around Monmouth County, so extra hands – in the form of volunteers – are essential in ensuring that things run smoothly.
Regarding Kearny Bank's support of Lunch Break, this volunteer effort followed up a donation of $10,000 made by the bank in early 2017.
"Lunch Break is a remarkable organization, in terms of what it does for so many residents of Red Bank and many other communities – so I'm delighted Kearny Bank provides financial support to help keep this operation going," says Veronica Ross, 1st Vice President, who led Kearny Bank's team of Small Business Banker volunteers. "When you have the experience of providing in-person help, of working with your hands, that's another level of support. It was truly a humbling experience, and it reinforced for me what exceptional people my colleagues are."
Founded in 1983, Lunch Break has a goal of breaking the cycle of poverty and guiding community members toward self-sufficiency and healthier, more productive lifestyles. In addition to its professional staff, the organization is aided by approximately 1,500 annual volunteers.
"One member of our volunteer team had completed his shift and saw there were still people in the dining hall waiting to get their meal," Ross adds. "So, he just stayed and continued serving food. That's not a big deal – but it does illustrate how quickly people can become invested in what Lunch Break does."
Information for groups or individuals interested in supporting Lunch Break by volunteering and/or making a financial contribution is available by calling 732-747-8577 or visiting http://www.lunchbreak.org.
About Kearny Bank
Kearny Financial Corp. is the parent company of Kearny Bank, which operates from its administrative headquarters building in Fairfield, NJ. Kearny Bank has supported the communities it serves since 1884. The bank has assets of $4.8 billion and operates 42 full-service banking offices in northern and central New Jersey, and in Brooklyn and Staten Island, New York. Kearny Bank was recently named to Forbes' list of the 50 Most Trustworthy Financial Companies.