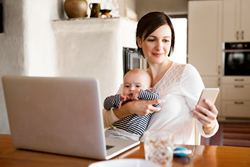 DALLAS (PRWEB) January 24, 2018
Americans are very good at accumulating debt around the holiday season. But the hard part comes along in January when the bills start to arrive.
CreditAssociates can help consumers dig their way out of that debt. And it's easier than they may think.
As the industry leader in the field, CreditAssociates and its team of experts has helped tens of thousands of people turn their lives around in 24 to 36 months.
These services help debt-burdened clients receive debt relief every day with fast and cost-effective solutions. And clients take advantage of an exclusive proprietary electronic debt-settlement system.
Overall, debt relief is a far better solution than debt consolidation.
CreditAssociates pairs proprietary debt-settling technology with the best debt-solution app in the industry. Clients can download a mobile app to keep track of their progress wherever they are, whenever they want.
Aside from holiday debt, CreditAssociates can help consumers with other common types of debt, caused by:

Unexpected job loss
Loss of income
Illness of spouse
Unexpected divorce
Especially long term debt like Credit Card Debt.
The most important thing for people in these situations to remember is there is no reason to panic. Anyone can find themselves in financial trouble.
It's often been said that most Americans are just one lost paycheck away from financial dire straits.
CreditAssociates applies technology and know-how to rescue them from that difficulty.
About CreditAssociates, LLC
CreditAssociates, LLC is a Dallas, Texas-based debt settlement agency that has helped thousands of people in the United States get on the path of freedom from debt. With its wealth of experience and strong relationships with credit institutions, the firm has unparalleled power to negotiate debt payments on behalf of its clients and lower the total amount otherwise required to pay. Throughout its decade-long company history, CreditAssociates has helped resolve tens of thousands of debt accounts, translating to hundreds of millions of dollars in settled balances.