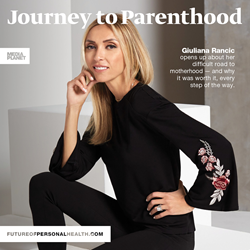 As the age of first-time parents continues to grow, new considerations must be made to accommodate pregnancies in modern times.
(PRWEB) January 10, 2018
Mediaplanet announces the launch of December's edition of "Journey to Parenthood." This campaign will empower couples to take control of their fertility and prepare for their pregnancies by utilizing new technologies and innovations in care.
Every hopeful parent embarking on the journey to parenthood just wants a healthy, happy pregnancy and baby. Longer life expectancies and more career opportunities than ever in history have led American women to gradually push back the age at which they choose to become parents. With this unprecedented delay in starting a family, more reproductive complications, like infertility and miscarriage, can arise. As the age of first-time parents continues to grow, new considerations must be made to accommodate pregnancies in modern times.
The print component of "Journey to Parenthood" was distributed within USA Today in the New York, Los Angeles, San Francisco, Seattle and South Florida markets, with a circulation of approximately 250,000 copies and an estimated readership of 750,000. The digital component is distributed nationally, through a vast social media strategy and across a network of top news sites and partner outlets. To explore the digital version of the campaign, click here.
Doting mom, wife and advocate for those affected by infertility, Giuliana Rancic graces the cover of the print publication. Through an exclusive interview on the interior, the popular television personality reveals her long road to motherhood. After trying unsuccessfully to conceive, Giuliana and her husband Bill Rancic eventually opted to try IVF – again, unsuccessfully. Giuliana got pregnant after the first round of treatment, soon thereafter suffering a miscarriage. After more rounds, she was diagnosed with breast cancer.
Now, a mother to son Duke via surrogate, Giuliana says, "after I realized I wouldn't be able to get pregnant myself, I was optimistic that I would still become a mother thanks to IVF. I didn't care how I had a child, I just wanted to be a mother and shower a child with love for the rest of his or her life.
"Since going public with infertility, I have heard countless amazing stories of people who almost lost hope, but stayed positive and eventually had a child of their own. Don't give up. Stay positive and know that good news may be just around the corner."
This campaign was made possible with the support of Giuliana Rancic, Dr. Bill Schoolcraft and the Colorado Center for Reproductive Medicine, March of Dimes, American Pregnancy Association, National Infertility Association, National Safety Council, Save the Cord Foundation, Happiest Baby, Cultural Care Au Pair, Ferring Pharmaceuticals, Reproductive Medicine Associates of New Jersey, Hologic, Crane USA and Eturi.
About Mediaplanet
Mediaplanet specializes in the creation of content marketing campaigns covering a variety of industries. We tell meaningful stories that educate our audience and position our clients as solution providers. Our unique ability to pair the right leaders with the right readers, through the right platforms, has made Mediaplanet a global content marketing powerhouse. Our award-winning stories have won the hearts of countless readers while serving as a valuable platform for brands and their missions. Just call us storytellers with a purpose. Please visit http://www.mediaplanet.com for more on who we are and what we do.
Press Contact:
Caroline Trugman
caroline.trugman(at)mediaplanet(dot)com
(845) 709 0275