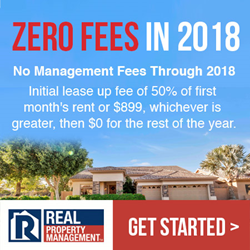 Zero Property Management Fees in 2018
MESA, Ariz. (PRWEB) January 11, 2018
Real Property Management East Valley (RPMEV) is known for offering exceptional value to their customers, providing property owners with convenient solutions to property ownership and management, at an affordable cost.
Now, through January 31, RPMEV is taking this value to a new level, offering their clients the opportunity to pay $0 in management fees for the entire year (2018).
In order to qualify for this offer, clients must pay the initial lease up fee (50% of the first month's rent, or $899, whichever is greater). After that, the client will pay $0 in management fees for the rest of the year.
At Real Property Management, the goal is to help property owners get the most out of their investment properties, while allowing them to stay out of day-to-day management tasks and focus on the big picture. Some of the services RPMEV provides are:
Finding the right tenant. This includes utilizing effective marketing strategies, showing the property to potential tenants, and screening those tenants to make sure they are a good fit.
Tenant onboarding. RPMEV can send a representative to meet with new tenants and take care of all the paperwork (so the property owners don't have to).
Maintaining current tenants. This includes handling everything from maintenance and repairs, to payment collection and policy enforcement.
This is all done while maintaining high standards of communication and integrity.
RPMEV is eager to share their services with the East Valley, and hopes that these unprecedented savings will allow more property owners to discover the convenience and the power of property management.
For more information, visit http://www.rpmeastvalley.com, or call 480-719-1243.