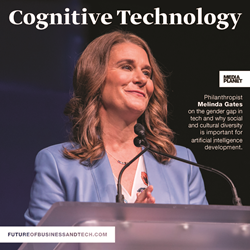 There are no blanket solutions in technological transformations. Artificial intelligence is no exception.
NEW YORK (PRWEB) January 11, 2018
Though various forms of artificial intelligence and machine learning have existed for nearly 60 years, it is only recently that this field of computing has developed to a level of accessibility that truly allows businesses to leverage this innovative technology. However, the lack of an industry-wide consensus on the ethics of AI and the technology's breakneck pace of development makes it difficult to carve out recommendations for where one application of the technology ends and another begins.
There are no blanket solutions in technological transformations. Artificial intelligence is no exception. Mediaplanet's Cognitive Technology campaign, created in partnership with Melinda Gates, the World Economic Forum and Microsoft, will serve as an educational guidebook for business leaders to understand how to obtain the maximum benefits from cognitive technologies within their market —using artificial intelligence to improve employee workflow and efficiency, reshape customer experiences and take risk and fraud protection to the next level.
This program was made possible with the support of Melinda Gates, the World Economic Forum's Center for the Fourth Industrial Revolution, Microsoft, the National Security Agency, the National Retail Federation, Eliot Weinman, the Cognitive Computing Consortium, SCIP, AMT, HSBC, Forgerock, Feedzai, LogMeIn, Cognicor, Omron, The Nerdery and The Savo Group.
Cognitive Technology hit newsstands on December 19, and was distributed within the daily circulation The San Francisco Chronicle, with a circulation of approximately 163,000 copies and an estimated readership of 500,000. The digital component is distributed nationally, through a vast social media strategy and across a network of top news sites and partner outlets. To explore the digital version of the campaign, click here.
About Mediaplanet
Mediaplanet specializes in the creation of content marketing campaigns covering a variety of industries. We tell meaningful stories that educate our audience and position our clients as solution providers. Our unique ability to pair the right leaders with the right readers, through the right platforms, has made Mediaplanet a global content marketing powerhouse. Our award-winning stories have won the hearts of countless readers while serving as a valuable platform for brands and their missions. Just call us storytellers with a purpose. Please visit http://www.mediaplanet.com for more on who we are and what we do.
Press Contact:
Kelsey Dimka
kelsey.dimka(at)mediaplanet(dot)com
(410) 693-1007