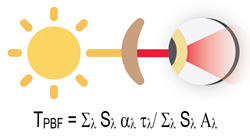 PPT developed the new algorithm so it could design dyes for sunglasses or skin care products that optimize protection and repair from sunlight damage.
SAN ANTONIO (PRWEB) January 11, 2018
San Antonio. Photoprotective Technologies, Inc (PPT) was recently awarded a US patent for its sunglasses that provide repair to vision for the first time. Now it has developed a rating system that quantifies the transmission – by any lens – of the therapeutic red and near infrared light previously shown to repair photoreceptor cells in the eye. The therapeutic effect resulting in repair of the cells is called "Photobiomodulation" – or PBM.
The new rating system – an algorithm - uses the so-called transmission spectrum of a given sunglass lens as the input; it then takes into account the detailed emission of red and near infrared light emitted by the sun, or by a dye, and also the detailed way that photoreceptor cells absorb that light. The output from the new algorithm is the transmission of therapeutic light through the sunglass lens - averaged over the red and near infrared wavelengths shown to repair vision.
Medical scientists believe that cytochrome C located in the mitochondria of each cell is the primary absorber for the effects of PBM. When red and near infrared light at specific wavelengths strike the cells, cytochrome c becomes energized. "When the cell becomes energized by these wavelengths, the cells operate better," says physicist Dr. Jim Gallas, CEO of PPT and inventor of the algorithm. "And when the cells operate better, the skin and the retina function better and appear better," adds Gallas.
The value of the PBF is that it can be compared with the Eye Protection Factor (EPF) also developed by Photoprotective Technologies and published in 2001. Whereas the EPF quantifies how much protection is provided to our eyes by a specific pair of sunglasses while outdoors, the PBF aims to quantify the repair.
For more information visit http://www.melaninproducts.com/red-light/