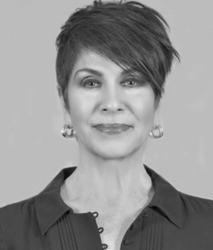 CENTURY CITY, Calif. (PRWEB) January 11, 2018
Haute Residence and acclaimed broker, Mary Ann Osborn renewed their real estate partnership for a second year. As a Haute Residence partner, Osborn exclusively represents the high-end real estate market in Century City, California.
With over $1 billion in sales, Osborn is a leading broker in Century City and Los Angeles. She has not only aided many high-profile clients in their real estate transactions, but has also played an instrumental role in developing the area's luxury condominiums.
Osborn helped deliver Related's East Coast model of providing turnkey homes with all the conveniences of a five-star hotel as an attractive alternative. She was the director of sales for The Century, a 42-story masterpiece designed by world-renowned Robert A.M. Stern Architects and developed by The Related Companies as their flagship entry into the West Coast. Today, the tower is home to a slew of celebrities including Candy Spelling, Paula Abdul, Elizabeth Berkley, and Cheryl Cole.
Aside from partnering with developers, Osborn coordinates with architects, construction staff, designers, attorneys, advertisers, public relations firms, web designers, real estate brokerage community, and management teams. With over 25 years of experience, she lends considerable expertise to the research, analysis, and pricing of potential residential sales acquisitions. She advises from concept to completion, which includes branding, strategic positioning, demographic research, presales, product absorption and release, pricing, floor plans, unit mix, promotional activities, customer outreach and retention, and sales staffing. She is directly responsible for the training, supervision, and management of various property development teams.
The broker of choice for high-end condominiums, Osborn is also the go-to market insider for a range of publications – from the Los Angeles Times to Forbes to the Wall Street Journal.
About Haute Residence:
Designed as a partnership-driven luxury real estate portal, Haute Residence connects its affluent readers with top real estate professionals, while offering the latest in real estate news, showcasing the world's most extraordinary residences on the market and sharing expert advice from its knowledgeable and experienced real estate partners.
The invitation-only luxury real estate network, which partners with just one agent in every market, unites a distinguished collective of leading real estate agents and brokers and highlights the most extravagant properties in leading markets around the globe for affluent buyers, sellers, and real estate enthusiasts.
HauteResidence.com has grown to be the number one news source for million-dollar listings, high-end residential developments, celebrity real estate, and more.
Access all of this information and more by visiting: http://www.hauteresidence.com