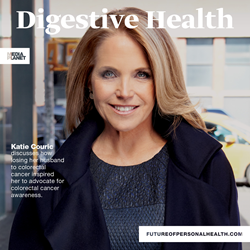 About 60 to 70 million people in the United States are affected by a digestive disorder.
NEW YORK (PRWEB) January 11, 2018
Mediaplanet today announces the launch of December's edition of "Digestive Health." This campaign touches on various digestive problems and offers advice from leading experts for those suffering and their loved ones.
About 60 to 70 million people in the United States are affected by a digestive disorder. These digestive diseases and conditions can be extremely painful and embarrassing. This campaign aims to start a conversation about these problems to lift the stigma and empower those affected by these deeply personal afflictions. The campaign also highlights the fact that patients with digestive issues are often misdiagnosed, leading to prolonged suffering and potentially worsening of their condition.
The print component of "Digestive Health" was distributed within USA Today in New York, Los Angeles, Boston, Chicago, Washington DC/Baltimore markets, with a circulation of approximately 250,000 copies and an estimated readership of 750,000. The digital component is distributed nationally, through a vast social media strategy, and across a network of top news sites and partner outlets. To explore the digital version of the campaign, click here.
Long-time digestive health advocate Katie Couric graces the cover of the print publication. Through an exclusive interview on the interior, Couric discusses her personal connection to this topic and the loss of her husband, Jay Monahan, to colorectal cancer in 1998. An issue that has become close to her heart is the drastic spike in early onset colorectal cancer. In addition to the increase, younger people are 58 percent more likely to be diagnosed with late-stage colorectal cancer than older patients.
"Losing someone you love, at any age, is devastating. Losing a parent, a spouse or friend in the prime of life has a terrible ripple effect," says Couric. Her husband Jay fell into the category of younger adults, passing away at the age of just 42 years.
This campaign was made possible with the support of QuinTron, Clinical Genomics, Biohm, Epigenomics, iQuity, Squatty Potty, ASCO, Mayo Clinic, Colorectal Cancer Alliance, Fight Colorectal Cancer, Katie Couric, Sharon Osbourne, Leigh-Allyn Baker, American Society for Gastrointestinal Endoscopy, American Society of Colon & Rectal Surgeons, Celiac Disease Foundation, and Crohn's and Colitis Foundation.
About Mediaplanet
Mediaplanet specializes in the creation of content marketing campaigns covering a variety of industries. We tell meaningful stories that educate our audience and position our clients as solution providers. Our unique ability to pair the right leaders with the right readers, through the right platforms, has made Mediaplanet a global content marketing powerhouse. Our award-winning stories have won the hearts of countless readers while serving as a valuable platform for brands and their missions. Just call us storytellers with a purpose. Please visit http://www.mediaplanet.com for more on who we are and what we do.
Press Contact:
Vanessa Rodriguez
vanessa.rodriguez(at)mediaplanet(dot)com
(646) 979-2833