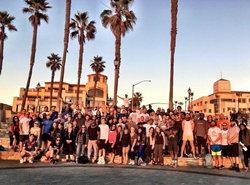 "The wise words of modern philosopher Mike Tyson rang in my ears... 'Everyone has a plan until they get punched in the face.'" - Jaime Hepp
ORANGE, Calif. (PRWEB) January 11, 2018
TAG has been consistently named as a top employer in Orange County, CA by the OC Business Journal. 2017 brought the national spotlight to this thriving, young organization as one of "Best and Brightest Companies" in the United States.
Company President, Jaime Hepp, accepted the award, but he was quick to give all of the credit to the young leaders of the organization. When describing the synergistic culture of TAG, he presented an amazing story of the organization's experience during California's largest wildfire.
"We prepared all year long for our annual leadership retreat for 125 of our best leaders, administrators, and owners," said Jaime Hepp. "It seemed like everything was brilliantly planned, but the wise words of modern philosopher Mike Tyson rang in my ears during the beginning of our event: 'Everyone has a plan until they get punched in the face.' The Thomas Fire started the day before our year end retreat."
The Thomas Fire is now recorded as the largest wildfire in California's history - torching over 280,000 acres.
The group was planning on staying in Malibu for the retreat, however, the 100 acre fire in Ventura was starting to rage. Fire, smoke, evacuation orders - these were all things this group was going to have to deal with.
Part of TAG's culture is drenched with Stephen Covey's best seller, The 7 Habits of Highly Effective People. TAG employee, Brandon Kuey, described TAG's culture using Covey's teachings. "Synergy says that 1+1=3, maybe 4, maybe 1400. None of us are smarter than all of us. It was unbelievable to see how everyone came together and contributed during this crisis."
Everyone was asked to get back in to their small groups and "synergize" - come up with solutions and alternatives to some of the challenges (regarding physical and emotional safety, evacuation if this was required, drinking and driving, finding alternative places for 125 people to sleep, etc). Everyone's voices were heard. Everyone's concerns were heard. Everyone's opinions counted. When the group returned to talk things through, it became clear that they were not going to have their event in Malibu. The fires were simply too unpredictable, and they weren't willing to compromise people's safety.
A small group of leaders assembled to get in to intense problem solving mode. A clear challenge was in front of them as most hotels and airbnbs couldn't accommodate 125 people - especially considering they needed housing and food that evening.
"One plus one came out to one million." said Helen Davidov (one of TAG's top people). "I think we had twelve of us on phones and computers, and we continued to ask the managers of hotels that denied our request to provide us a potential solution. One contact lead to another that lead to another that eventually brought us to Disneyland. And of course at Disneyland - they took great care of our team. It was wonderful and it was a great example of why reputable organizations recognize us one of the best and brightest companies in the country."
TAG has received several awards over the years. Non profit organizations, such as the Boys and Girls Club and Operation Smile, have recognized TAG as community leaders. The LA and OC Business Journals have honored TAG with Top 10 Best Places to Work awards. This is now the second time TAG has been recognized on a national level as an organization with some of America's best and brightest people.
"I am lucky to be working with such a great group of people." said Jaime Hepp. "We value our customers obviously - just like every other company that's been in business for 10+ years. We go above and beyond the call of duty to value and honor the people INSIDE the organization as well. I think this is what makes us special."
"We appreciate this award, but please don't take any attention away from the firefighter that lost his life and the 1000+ homeowners and business owners that lost their properties during the Thomas Fire," said Jaime Hepp. "We were in panic, just like everyone else in LA. Thank God we chose to problem solve and stay out of harm's way. This crisis reminds us all of the heroes that willingly go in the heart of the problem to serve others."
TAG is a sales and marketing company in Orange, CA. TAG represents blue chip clients in the United States.