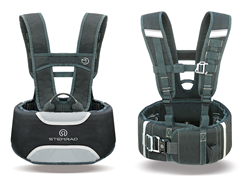 "BNC is excited to add the 360 Gamma to its extensive line of Radiation Detection and Identification equipment portfolio. Nothing in the industry exists with this level of protection, potentially saving workers from radiation sickness while allowing longer hours of life-saving tasks." Alex Palm
SAN RAFAEL, Calif. (PRWEB) January 11, 2018
Berkeley Nucleonics Corporation (BNC) is excited to announce a new distribution partnership with StemRad Ltd., an Israeli company founded in 2011. StemRad Ltd. specializes in revolutionary radiation protection equipment. This partnership will marry innovative, groundbreaking technology in radiation protection with BNC's 50+ years of industry experience in radiation detection and isotope identification.
The 360 Gamma, StemRad's flagship product, is a wearable radiation shield, which protects the bone marrow production sites in the hip bones where vulnerable and crucial stem cells reside. Its ergonomic design makes it perfect for military forces, first responders, HAZMAT teams and even astronauts, ensuring essential stem cells are protected without compromising mission objectives. A new and critically important protection for power plant emergency personnel or first responders in an era of increasing nuclear concerns and the rise of worldwide nuclear proliferation, the 360 Gamma provides an advanced solution to survive exposure to gamma radiation for hours. Unlike other whole body radiation protection equipment, the 360 Gamma focuses on only shielding the core of the body. This allows the 360 Gamma to significantly lower the total weight while increasing the effectiveness of the protection received. "BNC is excited to add the 360 Gamma to its extensive line of Radiation Detection and Identification equipment portfolio. Nothing in the industry exists with this level of protection, potentially saving workers from radiation sickness while allowing longer hours of life-saving tasks," states Alex Palm, VP of Sales.
Learn More about Berkeley Nucleonics Corporation
Berkeley Nucleonics Corporation is a leading manufacturer of precision electronic instrumentation for test, measurement and nuclear research. BNC has its corporate headquarters in San Rafael, California with several additional manufacturing facilities and sales offices located throughout the United States. Founded in 1963, BNC is a recognized leader in innovative electronics for a broad range of demanding applications. Exciting new products planned for 2018 include USB-driven Digital Delay/Pulse Generators, RF Spectrum Analyzers, 26 GHz Signal Generators, Phase Noise Test Systems and Combined Gamme / Metal Detection handhelds. Learn more at http://www.berkeleynucleonics.com or on BNC TV on YouTube.