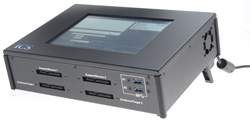 the IMSolo-5 Basic can not only capture, verify, and encrypt today's high-performance drives, but also provides the hardware necessary to take advantage of future hard drive speed improvements
CHATSWORTH, Calif. (PRWEB) January 11, 2018
Intelligent Computer Solutions Inc. (ICS), a business unit of JMR Electronics and the pioneering leader of disk drive duplication and computer forensic systems, announced today their new high-speed and versatile Forensic and IT handheld data acquisition systems, the Image MASSter™ Solo-5 (IMSolo-5) Basic. Multiple suspect or source drives can be simultaneously imaged to evidence or target drives at speeds up to 32GB per minute with support for the latest drive and encryption technology. The company is offering a 10% discount on purchases of these new systems through February 16, 2018.
The IMSolo-5 Basic replaces the IMSolo-4 G3 Slim product line by incorporating the same streamlined footprint and features while expanding performance and reliability. Advanced duplication technology along with a new Intel® processor and internal system design allows multiple operations to be performed simultaneously across a total of 13 I/O ports (1Gbit Ethernet and up to 12 storage devices). Images are quickly verified utilizing SHA-1 and SHA-2 hashing using hardware acceleration or software based MD5 hashing. The IMSolo-5 Basic offers native support for SAS, SATA, and USB 3.0 drives and the slide out system drive provides for quick drive removal and replacement.
The Image MASSter™ Solo-5 Basic is available in a Forensic or IT version. Both systems have the same core capabilities with software features and drive ports tuned for the unique needs of each market. Forensic professionals can take advantage of Forensic software and hardware features that provides expanded storage capacity, ability to preview suspects data in a forensically safe environment, maintain and store detailed event log and audit trail files, and cell phone acquisition support. Both systems provide remote access and external storage options. Complete product information and data sheets are available at http://ics-iq.com.
"ICS's 27 years of market leadership expertise has been incorporated into the IMSolo-5 Basic system design, enabling IT and Forensics Professionals involved in the duplication and computer forensic acquisition and analysis fields to quickly and accurately acquire Source data using an all-in-one, reliable, and convenient handheld system," said Gonen Ravid, President and CEO of ICS. "By implementing a powerful Intel CPU and support for advanced SATA-3 technology, the IMSolo-5 Basic can not only capture, verify, and encrypt today's high-performance drives, but also provides the hardware necessary to take advantage of future hard drive speed improvements. We are encouraging our customers to take advantage of these new capabilities by launching the IMSolo-5 Basic with a 10% discount through mid-February."
About ICS
ICS is a pioneering leader of disk drive duplication and computer forensic solutions. Since 1990, their patented automatic hard drive formatting and software pre-loading solutions have become the de-facto standard for most PC manufacturers and system integrators. Additionally, ICS is a globally recognized leader and supplier of computer forensic systems for law enforcement personnel ranging from local police departments to Federal and International agencies. Today, government agencies worldwide consistently use and depend on ICS's products. For further information, please visit http://www.ics-iq.com, or call 818-993-4801.
About JMR Electronics
JMR is a leading value provider and systems integrator of scalable storage systems for high performance and capacity driven applications for multiple markets including; video and post-production, military and government, education, VOD, DCC, gaming, security, medical imaging, HPC, and Web 2.0. Since 1982, JMR's reliable and innovative RAID systems are proudly made in the U.S.A., manufactured entirely from their Chatsworth, California facilities. JMR's complete line of affordable Lightning™ storage products; SilverStor™ SMB focused products, and BlueStor™ Cloud-ready rackmount and desktop solutions are built to handle the most demanding project needs for A/V centric markets. Reliability. Innovation. Performance. This is JMR. For further information, please visit http://www.jmr.com, contact sales (at) jmr.com, or call 818-993-4801.