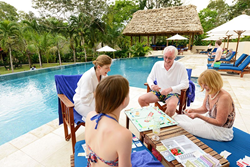 it's guaranteed to be much, much warmer
San Ignacio, Belize (PRWEB) January 16, 2018
As the northern hemisphere braces for a particularly harsh winter this year, The Lodge at Chaa Creek has announced a new "Winter Rescue Vacations" initiative, according to the Belizean eco-resort's managing director.
"Day after day, the news is filled with statistics that are, frankly, chilling," Bryony Fleming Bradley said.
"With record breaking snowfalls, historically low temperatures, and events such as 'bomb cyclones' dominating the news, we're focussing on providing relief, rejuvenation and recharging for travellers under a new 'Wild Winter Rescue' effort that will run from now until into March," she explained.
To assist people make it through the 2018 winter season, Chaa Creek is offering discounts and affordable vacation options that also take advantage of enhanced airline service to the little Caribbean nation.
The first stage, Ms Bradley said, is the "Winter Warmer" offer of a 20% discount off accommodations, amenities and activities during select dates in January and February 2018, with complementary upgrades when available.
"We felt that such a substantial discount puts a tropical vacation in reach of more people, and helps take the bite out of winter. Sometimes just knowing that a warm tropical holiday awaits makes the severest weather more bearable," she said.
Chaa Creek is also, once again, celebrating the month of February as "Valentines Month" with an emphasis on warm weather romance, especially during the week surrounding St Valentine's Day, February 14th.
"Ever since we designated February as a month for celebrating love, it's been growing in popularity," Ms Bradley said, "And just as with Valentine's Day cards, our Belize Valentine's Vacations are varied and appropriate for just about anyone you care for. For couples, they're the ultimate romantic getaway, and they're also suitable to show mom how much you care, celebrate family closeness, or as a token of affection that anyone would appreciate.
"Instead of giving a bouquet of flowers, you can give a walk among beautiful tropical blossoms in one of our gardens or rainforest trails, pampering in the Hilltop Spa, a candlelit dinner, or sharing one of the many activities on offer within our 400-acre private nature reserve.
"And the way winter is shaping up, the gift of a warm weather break will be appreciated more than ever this February," she added.
According to Belize weather information on Chaa Creek's website, temperatures during January and February hover around an average of 75°F (24°C) with highs of 80°F (27°C) and lows of 71°F (22°C).
"The dry season hasn't arrived yet, so it's pretty much Goldilocks weather; not too dry and not too wet, just perfect for swimming, hiking, canoeing, horseback riding, and lounging with cool evenings and refreshing mornings," Ms Bradley said.
In addition to discounts, other winter incentives include no accommodation charge for young guests under the age of 18 who stay in their parent's room, fresh farm-to-table and Caribbean seafood cuisine at the onsite Mariposa Restaurant and Jungle Lounge, and access to the amenities and wide range of activities that have earned Chaa Creek the reputation as Belize's "Destination Within The Destination", Ms Bradley said.
"When you consider everything that comes with accommodation, a Belize winter vacation at Chaa Creek is not only exceptional, but affordable as well. In fact, with recent enhancements in international and domestic air travel, a Belizean winter vacation may cost no more than a winter holiday in the US or Canada.
"And it's guaranteed to be much, much warmer," she added.
Ms Bradley encouraged people to visit Chaa Creek's website and the Chaa Creek Belize Travel Blog to find dates and other information about the "Winter Warmer" special offer, and learn more about winter vacations in Belize and at Chaa Creek.
"Our Winter Rescue offers will continue to evolve over the winter months, and we encourage people to keep checking in, or to contact their travel agents or Chaa Creek directly to learn how to escape from freezing conditions to a warm winter wonderland, where there are piña coladas instead of hot cocoa, swimming instead of snow, and where poolside lounging or swinging in a hammock replaces being huddled up inside.
"Our dedicated vacation planners are standing by to help families, couples, groups and individuals make the great escape this winter, and say they can almost sense the feeling of relief when people confirm their bookings and begin looking forward to some warm weather relaxation," Ms Bradley said.
The Lodge at Chaa Creek is a multi-award winning eco resort set within a 400-acre private nature reserve along the banks of the Macal River in Belize. It was recognised by National Geographic with first place honours at the 2017 World Legacy Awards held in Berlin.
ENDS