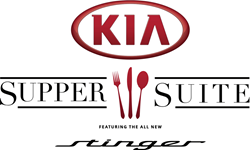 We feel confident in the Stinger's ability to deliver our VIPs in style and comfort in the cold climate and the high altitude, snowy roads of Park City" explains James Bell, Kia's director of corporate communications.
LOS ANGELES (PRWEB) January 11, 2018
Leading Hollywood event producer A-List Communications announces it has renewed a fourth consecutive annual title sponsorship with Kia Motors to bring the celebrity favored "Kia Supper Suite" pop-up back to Park City, Utah. The exclusive three-day pop-up will be open from January 20th through 22nd, the first weekend of the famed Film Festival, to kick off the new year.
For year four, Kia Supper Suite will take over Utah's top 10 ranked restaurant, The Mustang, conveniently located in the center of the Festival's hub on lower Main Street. Led by award-winning Chef Edgar Gonzales and Owner and Park City Local Dustin Stein, the culinary team will serve up private four-course dinners and gourmet canapé cocktail parties in celebration of the films and casts in attendance.
Helping to elevate the culinary experience will be Kunde Family Winery, serving up wine pairings for the dinners and cocktail receptions with their 2013 Reserve Cabernet Sauvignon (Sonoma Valley), 2013 Reserve Century Vines Zinfandel (Sonoma Valley), 2015 Sonoma Valley Chardonnay (Sonoma Valley), and 2016 Magnolia Lane Sauvignon Blanc (Sonoma Valley). Topo Chico Mineral Water, Mexico's best kept secret, has renewed its sponsorship after being embraced last year by so many of the Hollywood community. Additionally, annual sponsor MillerCoors has also renewed to pair its Blue Moon Belgian White, which is a Belgian-style witbier, with the menu options for each event.
In addition to the film dinners and parties, Kia Supper Suite will also host the annual Collider Portrait and Media Studio during the daytime. Here, top filmmakers and actors will stop in during their press circuits to conduct live streaming interviews and to take cast portraits as exclusive content on the popular movie fan site, Collider.com, which garners over 11 million visitors and 45 million page views monthly.
Regarding the Kia Supper Suite schedule 2018, the lineup is as follows:
Saturday, Jan 20th

Collider Portrait & Media Studio and press junket for cast of MANDY, including stars Nicholas Cage (Looking Glass) and Andrea Riseborough (Oblivion)
Film Premiere Cocktail Party for official Film Festival selection NANCY, starring Andrea Riseborough, Steve Buscemi (Boardwalk Empire), Ann Dowd (The Handmaid's Tale), and John Leguizamo (The Crash)
"A Dinner for Change, Celebrating: MASTERS OF THE SUN." A benefit dinner and conversation about social injustice and how to activate hosted by will.i.am & The Black Eyed Peas, Rosario Dawson, KRS-One, Rakim and other friends of will.i.am to be announced.
Sunday, Jan 21st

Collider Portrait & Media Studio
Joint cast Party for PIERCING, DAMSEL, and TYREL in celebration of actors Christopher Abbott (Whiskey Tango Foxtrot), Mia Wasikowska (Alice in Wonderland) and other cast and talent to be announced
The Creative Coalition's annual Spotlight Awards Dinner Gala hosted by President of The Creative Coalition, Tim Daly (Madam Secretary), and honoring Chloë Grace Moretz (The Miseducation of Cameron Post), Haley Joel Osment (Clara's Ghost), Denis O'Hare (Lizzie) Christine Vachon (producer, Carol), and other honorees and presenters to be announced
Monday, Jan 22nd

Collider Portrait & Media Studio
The Kia Supper Suite VIP experience extends beyond the kitchen as guests will be whisked to and from the events in a fleet of chauffeur-driven Kia vehicles, including the award-winning Sorento and the all-new 2018 Kia Stinger.
A five-passenger sportback poised to redefine a segment currently populated by European automakers, the Stinger is the highest-performance production vehicle in the company's history and is backed by Kia's industry-leading warranty.
With more power on tap than the Audi S5 Sportback, BMW 440i Gran Coupe, and Infiniti Q50, the Stinger GT accelerates to 60 mph in 4.7 seconds, quicker than the six-cylinder Porsche Panamera. Pushing the twin turbocharged V6 to its full potential will allow the Stinger GT to achieve a top speed of 167 mph.
"Unlike any Kia that has come before it, the Stinger really is a dream car for us and after years of commitment and hard work from a passionate group of designers, engineers and executives around the world, that dream is now a reality," said Orth Hedrick, vice president, product planning, Kia Motors America.
Designed in Frankfurt and developed on the legendary Nürburgring circuit, the all-wheel drive Stinger underwent a rigorous research and development program, including continuous runs down the infamous Grossglockner High Alpine Road in the Austrian Alps. As such, "we feel confident in the Stinger's ability to deliver our VIPs in style and comfort in the cold climate and the high altitude, snowy roads of Park City" explains James Bell, Kia's director of corporate communications.