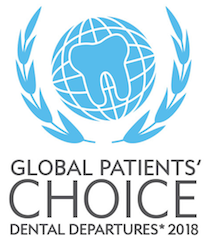 We are always delighted to recognize the expertise and standards of our top-performing dental facilities through the Global Patient Choice Awards. It is gratifying to present them with tangible recognition of their commitment from those who matter the most – their patients - Paul McTaggart, CEO
BANGKOK (PRWEB) January 12, 2018
Dental Departures, Inc., the online dental tourism company that connects patients to first-rate international dental providers, today announces its annual Global Patients' Choice Awards for 2018. The top-rated clinics that have consistently garnered excellent customer feedback throughout the year are presented with the awards.
Dental Departures is the sister company to Medical Departures which now extends globally into 33 countries. Partnered with more than 2000 hospitals, clinics and medical facilities, its chief markets are the Latin American and Asian Pacific regions, with reach expanding across Europe into countries including Poland, Czech Republic, Hungary and Turkey.
With current demand for dental tourism reaching unprecedented heights, Dental Departures is proud to announce the stand-out facilities and surgeons in Latin-America that have delivered outstanding clinical care and patient services throughout 2017. Mexico has emerged as a key destination in terms of patient satisfaction.
In May 2017 at the Dental Implant Week for Low Resources Patients, an event held in Mexico City and supported by the Mexican Association of Osseointegration (COMO), it was forecast that dental tourism in Mexico would grow by seven percent compared to 2016, with the estimated turnover expected to be around USD $372 million. Raquel Tirado Perez, president of the Mexican Association of Dental Industry and Trade (AMIC), confirmed that "medical tourism with all procedures will generate $3.69 billion dollars in 2017."
Contributing to this growth is the development of world-class facilities equipped with state-of-the-art dental equipment, coupled with a wealth of internationally-trained dental experts that utilize the latest procedures and techniques. "Rising demand for affordable dental care is driving increasing numbers of patients to Mexico from Canada, the United States and EU nations, according to Josef Woodman," CEO of Patients Beyond Borders, a partner of Medical Departures. "Mexico has become the world's leading dental tourism destination, with more than one million cross-border patients treated annually."
The Dental Departures Global Patients Choice Awards, 2018 are a reflection on the performance and customer satisfaction delivered by each clinic throughout the year. Dental Departures' patients provide verified feedback regarding their treatment, facilities' standards, and staff expertise in the form of a comprehensive customer experience rating.
Only clinics with an average rating of between 4 and 5 stars are eligible for a nomination, regardless of size. For less-commercially recognized establishments, the award provides an opportunity to further raise their profiles.
The Global Patients Choice Awards are the brainchild of Dental Departures founder and CEO Paul McTaggart as a way of acknowledging "We are always delighted to recognize the expertise and standards of our top-performing medical and dental facilities through the Global Patient Choice Awards. It is gratifying to present them with tangible recognition of their commitment from those who matter the most – their patients."
Dental Departures has vetted and engaged partner clinics throughout Latin America, including Mexico, Costa Rica and Colombia. Mexico's emergence as the world's leading dental tourism destination is attributed to world-class facilities, affordable prices, excellent-quality treatment and popular leisure travel venues where patients can combine a vacation with essential dental work.
Dental Departures pre-screens partner clinics, ensuring that facilities are cutting-edge, and that health, safety and hygiene standards comply with strict internationally-recognized standards. The range of available treatments cover gamut of dentistry, from simple cosmetic treatments such as laser teeth whitening, to more complex procedures such as dental implants and full oral reconstructive work.
The Latin American nominations for the Global Patients' Choice Awards 2018 include these top-rated dental clinics in Mexico:

The full list of Latin America winners for Dental Departures' Global Patients' Choice Awards 2018 may be viewed at https://www.dentaldepartures.com/global-patients-choice/2018/
About Dental Departures
Based in Bangkok, Thailand, Dental Departures is the sister company site to Medical Departures, connecting patients from around the globe with high-quality,reliable, competitively-priced dental clinics in other regions, where costs are considerably less than at home. The website dentaldepartures.com provides an alternative to those struggling with the high-costs of dental care at home and provides secure online booking, as well as a 24/7 hour a day customer care Service accessible by toll-free telephone, online chat or email. To date, Dental Departures has booked more than 61,000 cross-border patients and has garnered more than 24,000 patient-generated reviews for its growing inventory of 2153 clinics in 34 countries.