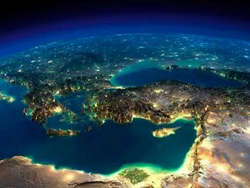 This is an ICO project with a working prototype. Change starts with communities, and ACT aims to disintermediate NGO and charity norms to fund those on the frontline directly.
ZUG, Switzerland (PRWEB) January 11, 2018
ACT is a decentralized funding platform focused on supporting activists on the front line of fighting for the future that we need to see.
Since its successful pre-ICO in July last year, which raised 1200 ETH from 347 supporters, the team has been building five Ethereum smart contracts that govern the ACT platform's innovate token economic model. The two main parts of ACT – the ACT Curation Engine and the ACT App - are both now in prototype phase. The ACT Curation Engine crypto token called "CE7" governs ETH rewards that curators receive for vetting proposal submitted to the platform – the process is completely decentralized and autonomous.
After a short vetting period of 3 days, the best proposals are automatically pushed to the ACT App where citizens have just 24 hours to vote on them. ACT votes costs 0.005 ETH each, and successful proposals are paid automatically by the smart contract from the proceeds. Following this stage, the platform generates a funding smart contract for the proposal that it's proponents can use to raise more funding directly.
The ACT platform is designed to be highly responsive to causes, and aims to be able to fund change, and perhaps even global citizen-led movements, at any speed and any scale. It wants to transform the NGO sector with its decentralized technology.
The team has forged alliances with activist groups in the USA, UK and Germany mainly fighting coal, oil and gas, and fracking abuses of the environment. These include the United Valleys Action Group in Wales, the famous "Nanas" in Yorkshire (think Grandmas shutting down fracking operations to save their Grandchildren), and Sunrise Youth Movement in the USA. The team is also in discussion with activists from tougher places such as Ukraine, Uganda, Vietnam, Cambodia, Venezuela and Iran about pilot projects for the ACT Alpha platform.
The published project roadmap sees ACT Alpha on the Ethereum mainnet after code audits of the current prototypes this March 2018. This contains the smart contracts ICO ETH proceeds will be stored. Holders of the CE7 token which can be acquired during the ICO happening now will hold the reigns with regards to which proposals are pushed to voting, and which are not.
The ACT project is a revolutionary blockchain-powered decentralization autonomous organization. It puts power in the hands of the people absolutely. If the world got on ACT no government, or corporate power would have the resources to oppose the aggregate resources and power of global citizens enabled through the ACT platform.
The ICO will span just three days from Jan 13th to Jan 16th at https://daoact.org/ico.