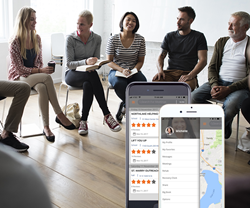 Let's meet on the path to recovery; we're not letting you tackle addiction recovery alone.
Los Angeles, CA (PRWEB) January 16, 2018
Available today on the App Store and Google Play, Meehab offers members day-to-day support and a community experience on the path toward addiction recovery. A directory of AA meetings with convenient directions and member-generated reviews is augmented by profiles of rehab facilities and a comparison of insurance coverage. But the app goes further, providing members with a private social network to find sponsors, share support, and engage with others that have similar experiences.
Meehab was built with the understanding that no two paths toward addiction recovery are ever the same. Chances are, though, that someone has some insight to share, or a shoulder to lean on, or an ear to listen, and maybe they're just around the corner or headed to a nearby meeting. Hailed as "Meetup meets AA," the Meehab app allows members to:

Browse meetings in the area, seamlessly sync with calendars, and get directions.
Browse genuine reviews and ratings of "AA meetings" from others in the community.
Compare facilities and match rehab centers to medical plans and insurance providers.
Connect with others, find support and sponsors, and form healthy relationships.
BUILT FROM PERSONAL EXPERIENCE
Siblings Naomi Nguyen and Anthony Nguyen launched Meehab to address two key issues in addiction recovery: the difficulty of finding good groups and meetings – especially when traveling – and the feeling of isolation that effects many in the community. "Let's meet on the path to recovery," invites Ms. Nguyen. "That short phrase sums up the Meehab experience; we're not letting you tackle addiction recovery alone. It's an uphill climb that I personally have been through and continue to face every day. I find strength in fellowship and sharing, and wanted Meehab to be that refuge for others."
Feeling defeated and being tethered to the weight of dependence is an exhausting reality for those beginning their path toward sobriety. Family and friends have difficulty understanding or relating to the influence of addiction. Meehab enables members to make real connections, not only by bridging the gap between finding and attending good support programs, but also by connecting members to each other. Meehab helps members get inspired, make friends, and stay focused on their journey.
"I just want to say I love my new app, Meehab!" admits member Walter C. of Los Angeles, CA. "It is so incredibly easy to use, I simply tap on the app, put in the location where I want to find a meeting, and boom! There it is! A list of meetings and times! Or I can just hit the 'Find Me' tab, and it shows me all the meetings in the area I'm in. This is a must-have for anyone in the 12-step program. I highly recommend!"
AVAILABLE IN CALIFORNIA AND EXPANDING
Meehab is a network that not only celebrates triumphs, but guides members during setbacks. The app currently supports members exclusively in California, but is expanding nationwide as the network of treatment centers and meetings grows. For more information, to download Meehab on the App Store or Google Play, or to enlist a related business on the app, visit http://www.meehab.com.