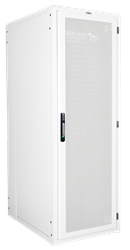 With attention focused so heavily on cybersecurity, it's critical that companies not let their guard down when it comes to physical security.
Edinboro, PA (PRWEB) January 16, 2018
Great Lakes Case & Cabinet announces the official release of SEAL® enclosures, the first complete solution for eliminating the physical threat to data at the server enclosure level. As commercial corporations and government agencies continue to spend millions of dollars on protecting valuable data from outside cyber-attacks, not enough attention has been given to security at the physical level where that data resides. The new SEAL line of enclosures represent an unprecedented level of security to enclosures, mitigating the risk of physical compromise like never before.
SEAL enclosures are multi-functional and fully customizable solutions that not only secure data and equipment with state-of-the-art locking mechanisms and solid steel construction, but provide additional security features that further increase the protection level of the equipment and data. This includes intelligent access options with the ability to integrate into existing security systems, a centralized software platform with real-time monitoring, and mobile authentication alerts and notifications.
Other SEAL features include the following enclosure technologies:

Secure channels, from handle to enclosure
Secured hinges
Tamper resistant panels
Secure contour doors
Internal ganging hardware
Internal anchoring hardware
Multi-point latch
Security covers
"With attention focused so heavily on cybersecurity, it's critical that companies not let their guard down when it comes to physical security," said Carrie Lowther, GLCC President. "SEAL marks a new era of physical security – of which we're proud to be at the forefront."
Manufactured and assembled in the United States using American made components, SEAL offers three security levels depending on the exact degree of protection required to safeguard data. In addition to the standard three security levels, SEAL provides a fourth level with the ability to fully customize a physical security solution to meet your unique protection needs.
Regardless of the level of protection selected, the goal of SEAL is simple – help customers achieve a level of protection that fits within their budget, meets or exceeds their physical security requirements, and provides a desired level of risk mitigation.
More information including spec sheets, full product overview, and testimonials can be found at http://www.sealenclosures.com.
About Great Lakes Case & Cabinet
Since 1985, Great Lakes Case & Cabinet (GLCC), has specialized in manufacturing UL-listed indoor/outdoor products for the mounting and protection of IT equipment; an extensive portfolio includes free-standing enclosures, wall mounts, racks, and accessories—all developed, manufactured, and assembled in the United States. This includes a new line of SEAL® enclosures, a product line specifically intended to enhance security at the enclosure level. Based in Edinboro, PA, GLCC provides data center solutions for thousands of clients worldwide. For more information visit http://www.werackyourworld.com/.