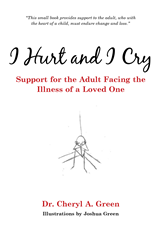 HAMDEN, Conn. (PRWEB) January 15, 2018
As a licensed clinical social worker and registered nurse, Dr. Cheryl A. Green shares her experience, wisdom, and compassion with those who face the illness or loss of a loved one in her book "I Hurt and I Cry."
Inspired by life, Dr. Green writes about how human beings are given life for such a brief period and how people must introspectively live and value one another before they vanish and their time has come to an end.
"The book is an observation of death and illness in my life as well as those I have been honored to provide care to over the years of practice in the field," said Dr. Green. "It also compliments the limited time adults have in their busy lives to sit, read, and breathe."
"I Hurt and I Cry" provides support to the adult who, with the heart of a child, must endure change and loss.
"I Hurt and I Cry"
By Dr. Cheryl A. Green
ISBN: 9781512756654 (softcover); 9781512756661 (eBook)
Available at the WestBow Press Online Bookstore, Amazon, and Barnes & Noble
About the author
Dr. Cheryl A. Green is a registered nurse, social worker, clinical Christian counselor, and nursing professor at Southern Connecticut State University. She has provided counseling and support to patients and their families grieving the illness and deaths of their loved ones (and themselves).
General Inquiries:
LAVIDGE – Phoenix
Bryan Beach
480-306-6554
bbeach(at)lavidge(dot)com