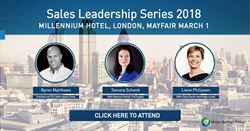 "I think sales is going to go through a larger amount of change than any other function in a corporation over the next five to ten years," Byron Matthews, President & CEO of Miller Heiman Group
LONDON (PRWEB UK) 16 January 2018
For sales and revenue leaders operating in the current business world, it is more important than ever to provide teams with the right skills, tools and resources to generate value for customers. To help out, Miller Heiman Group is bringing its Miller Heiman Group Sales Leadership Series to London in March 2018.
The 2018 Miller Heiman Group Sales Leadership Series event will be held at the Millennium Hotel London Mayfair on the 1st March, 2018. Over the course of the day, attendees will have the chance to hear from expert speakers and thought leaders, who will be on hand to offer advice and discuss key industry trends, developments and best practices.
In addition, the event will play host to a number of Miller Heiman Group workshops, which will be used to share some of the methodologies that can help to improve sales effectiveness and overall business results. There will also be an opportunity for attendees to network with one another and with the event's various participants.
For more information about the upcoming 2018 Sales Leadership Series London event, including the agenda for the day, and to register your attendance, please click here.
Expert Speakers
Among the speakers that will be on hand at the event are Byron Matthews, the President & CEO of Miller Heiman Group; Richard Hilton, the Managing Director for the company in Europe, the Middle East and Africa, as well as a sales consulting expert; and Tamara Schenk, Research Director at the company's research division, CSO Insights.
Byron Matthews will deliver the event's keynote speech, during which he will take a closer look at what the future of the sales and service industry looks like and provide insight into upcoming trends.
"Technology is going to be a disruptive force in selling," says Byron Matthews, President & CEO of Miller Heiman Group. "I think we have a huge transformational horizon in front of us. I think sales is going to go through a larger amount of change than any other function in a corporation over the next five to ten years."
Then, Tamara Schenk will lead a workshop on the topic of sales enablement, which will cover Miller Heiman Group's very own Sales Force Enablement Clarity Model and how it can be leveraged to achieve success.
Moreover, some of the other experts who will be on hand include Thierry van Herwijnen, Director of Global Sales Enablement & Operations at Wipro, and Dan Donovan, a sales consulting expert for Miller Heiman Group, who will lead an interactive session covering CSO Insight's Sales Relationship Process Matrix.
About Miller Heiman Group
Miller Heiman Group is a global leader in the field of business performance solutions, including sales training and coaching. The company has more than 60 offices globally and has worked with some of the largest and most successful brands in the world, helping them to implement sales and customer service-based solutions, based on technology and innovation, in order to turn business strategies into sales effectiveness. To find out more information, visit our website, or follow us on LinkedIn, Twitter, Facebook, YouTube and Google+.