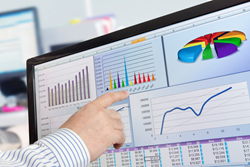 ROTTERDAM, Netherlands (PRWEB) January 16, 2018
Pioneer Solutions, a leading provider of commodity trading and risk management solutions, announced today it has enhanced its already robust reporting capabilities by allowing users to also tap into Microsoft Power BI for transactional analytics captured from multiple sources.
Pioneer has long supported the traditional use of Power BI for OLAP Cubes reporting for post trade analytics. Recognizing decision-making relies on an increasing number of information sources, the ability to use Power BI provides an easy to use analytics tools that deliverables actionable insights.
Microsoft Power BI is a suite of business analytics tools to analyze data and share insights. It allows to connect to many data sources, simplify data preparation, and drive ad-hoc visual analysis with interactive reports. In conjunction with Pioneers' real-time C/ETRM solutions, Power BI allows to handle and translate data into useable insights thereby streamlining the decision-making process.
"The ability to take advantage of multiple sources of data, provides a competitive advantage (or remain competitive), and compelling visualizations allow decision makers to process information faster", said Hugo Stappers, Director of Sales & Marketing EMEA. "The combination of Power BI and TRMTracker, empowers the user to create rich, interactive reports with visual analytics at their fingertips. And of course, those reports can be deployed within TRMTracker and are accessible from the Pioneer Mobile App".
Voted "Preferred ETRM System" by clients and peers, TRMTracker is a next-generation C/ETRM system with robust integration capability to external data sources. A "live" system, it provides the real-time processing capability to deliver the automation that reduces the burden on traders, portfolio managers, forecasters, settlement staff, and business leaders As a result, operational risks will be minimized, market opportunities can be capitalized, and process efficiency increases.
About Pioneer
Pioneer Solutions is a global provider of C/ETRM, environmental management and financial and regulatory compliance solutions. Serving utilities and trading companies across the globe, Pioneer's Suite of flexible software applications deliver easy-to-use and integrated functionality for Trade Capture, Position Analysis, Portfolio Management, Risk Reporting and Settlement, thereby providing the insight and granularity to manage operations optimally. Our pioneering and award-winning software offers a user-configurable environment and designed for rapid deployment resulting in a lower total cost of ownership and enhanced customer satisfaction.