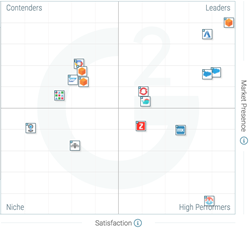 CHICAGO (PRWEB) January 11, 2018
G2 Crowd, the world's leading business software review platform, today released the Winter 2018 Cloud Platform as a Service (PaaS) Grid® report to help businesses make the best Cloud Platform as a Service (PaaS) technology buying decision. Amazon EC2, Microsoft Azure, Salesforce Platform: Force.com, Salesforce Platform: Heroku Enterprise, OpenShift, and Dokku were named Leaders in the report, receiving a strong customer satisfaction score with a large market presence.
Mendix, Zoho Creator, and Morpheus were named High Performers in the report, earning strong customer satisfaction marks with smaller market presence scores. Amazon EC2 received the highest overall satisfaction score and earned the highest overall market presence score.
The Grid® leverages customer satisfaction data reported by authenticated users along with vendor market presence determined from social and public data. Based on a combination of these scores, each software solution is categorized as a Leader, High Performer, Contender or Niche.
Key Findings:

Cloud-based for a reason — Users turn to cloud platform as a service solutions for a reason: They report that the ability to manage virtual servers in the cloud ensures data security and synchronization, as well as their satisfaction with eliminating the need of maintaining physical servers. Beyond the data security aspect, users also mentioned that cloud hosting makes building applications and databases extremely convenient.
Integrations — Users of PaaS solutions like that the platforms easily integrate with, migrate to, and scale to a variety of platforms. On top of that, users appreciate the platforms that support many programming languages, which make the management of web properties that much easier. Uses also mentioned that cloud platforms are ideal for rapid prototyping, deploying, and testing.
Cumbersome and clunky — According to users, flexibility and creative problem-solving is expected when utilizing PaaS solutions, but sometimes a constantly innovating platform makes it difficult for users to adopt and master. On the flip side, users disliked solutions that made cumbersome and difficult daily processes like attaching documents or making edits to APIs. Users admitted that some solutions made it far too easy to either make a mistake or get lost in the system; even more frustrating, users said, was when support was not as knowledgeable as the users would have liked. Additionally, many users wanted far more detailed and useful documentation and training, to offset any difficulties they had with an inflexible or resistant platform.
About the Cloud Platform as a Service (PaaS) Grid® report:
The report is based on more than 617 reviews written by business professionals.
Of the 65 products listed in G2 Crowd's Cloud Platform as a Service (PaaS) category, the ranked products each received ten or more reviews to qualify for inclusion on the Grid®.
About G2 Crowd, Inc.
G2 Crowd, the world's leading business solution review platform, leverages more than 320,000 user reviews to drive better purchasing decisions. Business professionals, buyers, investors, and analysts use the site to compare and select the best software and services based on peer reviews and synthesized social data. Every month, nearly one million people visit G2 Crowd's site to gain unique insights. Co-founded by the founder and former executives of SaaS leaders like BigMachines (acquired by Oracle) and SteelBrick (acquired by Salesforce) and backed by more than $45 million in capital, G2 Crowd aims to bring authenticity and transparency to the business marketplace. For more information, go to G2Crowd.com.