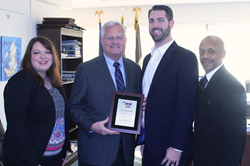 RCN Lehigh Valley has positioned 55 municipalities to lead the way in embracing the possibilities that the Internet of Things can provide,
PRINCETON, N.J. (PRWEB) January 16, 2018
RCN Lehigh Valley, an award-winning provider of high-speed internet, digital TV and phone services, announces the official appointment of "1 Gigabit Communities" in the Greater Lehigh Valley.
In August, RCN was the first provider to introduce 1 Gigabit internet speeds in the Lehigh Valley. Residents now have access to the fastest internet speeds in the market with easy installation and affordable pricing with no contractual commitment. RCN has completed a nationwide rollout in each of its six serviceable markets, including Chicago, New York City, Boston, Washington, DC and Philadelphia (Delaware County).
To celebrate this achievement, RCN has awarded plaques to 55 municipalities in the Lehigh Valley, commemorating each as a "1 Gigabit Community." Prior to RCN's 1 Gigabit launch, less than one percent of households in Pennsylvania had access to 1 Gigabit internet speeds. Now, area residents can experience the fastest speeds in the market.
As more video content is accessed over the internet, 1 Gigabit service provides a robust streaming experience for customers. With download speeds of up to 1,000 Mbps, users can download a two-hour movie in seconds and operate multiple devices simultaneously with ease. New network technology, DOCSIS 3.1, makes it possible for RCN residential customers to receive up to 1 Gigabit speed through the wiring that already exists in their homes.
The Honorable Robert Donchez, Mayor of the City of Bethlehem, accepted the plaque on behalf of his city. "This proclamation is a giant leap forward for innovation," said Mayor Donchez. "City of Bethlehem residents expect market-leading technology, the best and fastest products and top-notch customer service, all of which RCN provides. Accepting this plaque is an honor and we will take this new title to heart."
"1 Gigabit is a revolutionary new level of epic-fast internet that truly transforms the way people work, play, and game online. Its importance is increasing, and RCN Lehigh Valley has positioned 55 municipalities to lead the way in embracing the possibilities that the Internet of Things can provide," said Sanford Ames, Jr., Senior Vice President and General Manager of RCN Lehigh Valley, in letters to each town mayor. "The average household is running on multiple laptops, TVs, smartphones, tablets, printers, home security systems, appliances and game consoles. Higher internet speed offers an online experience that fits the lifestyles and needs of residents."
By offering 1 Gigabit speeds paired with quick and simple access, RCN is redefining innovation in the Lehigh Valley with the most cost-effective internet services.
RCN's Gigabit internet residential service is now available with pricing starting at just $64.99/month for 12 months. The affordable packages require no contracts. Those interested in signing up for 1 Gigabit internet service can do so by calling 1-800-RING-RCN or by visiting rcn.com.
About RCN
RCN Telecom Services, LLC (http://www.rcn.com and http://www.rcn.com/business) provides industry-leading high-speed internet, all-digital TV and phone services for residential, small/medium and Enterprise business customers. PC Magazine's Readers' Choice Award named RCN one of the winners for best ISPs in 2013, 2015 and 2016 – RCN was rated highest in overall satisfaction. RCN is YouTube HD Verified, earning the company the highest-ranking that Google offers. RCN is also a Netflix Open Connect partner, placing in the Top rankings on the Netflix USA ISP Speed Index in the markets RCN serves. RCN's affordably priced advanced digital services are delivered through its proprietary, state-of-the-art fiber-rich network and supported by 100% U.S.-based customer service. RCN's primary service areas include Boston, Chicago, Lehigh Valley (PA), New York City, Philadelphia (Delaware County) and Washington, DC.
Media contact:
Jackie Fraser
Matter Communications
rcn(at)matternow.com
978.358.5840
###