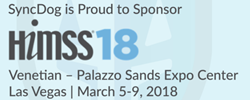 With the millions of people affected by several healthcare data breaches this year, organizations can't afford to keep any part of their security network left vulnerable, including mobile devices.
RESTON, Va. (PRWEB) January 16, 2018
SyncDog, Inc., the leading ISV for mobile application security, today announced they are once again sponsoring the HiMSS conference on March 5-9 in Las Vegas. SyncDog will be exhibiting their leading mobile application security product, Secure.Systems™, with live demonstrations from booth #12449.
"We are proud to be a part of the HiMSS conference," said Jonas Gyllensvaan, founder and CEO of SyncDog. "With the millions of people affected by several healthcare data breaches this year, organizations can't afford to keep any part of their network security vulnerable, especially mobile devices. Secure.Systems™ is able to improve mobile device security without sacrificing application functionality or infringing on employee privacy, while keeping up with HIPPA regulation."
The HiMSS conference brings together 45,000 plus professionals from around the world for five days of education, innovation, and collaboration to help uncover the promise of health information and technology. For more information click here.
About the Conference and Expo
When: March 5-9, 2018
Where: Venetian-Palazzo Sands Expo Center | Las Vegas, NV
SyncDog Booth: 12449 (Hall G, Level 1)
Event Website: Link
Register: Link
The Secure.Systems™ Workspace
The Secure.Systems™ workspace provides a secure application platform that encrypts and transports data between the enterprise and secure, "sandboxed" applications running on employees' mobile devices. The workspace delivers a highly functional and easy app experience for users, and protects client enterprise networks with secure, partitioned FIPS 140-2 certified* container on both iOS and Android devices. Secure.Systems™ secures data both on the device and in transit using AES 256-bit encryption. A full suite of mobile-enabled productivity applications is available in the defense-grade container, including SharePoint, Enterprise Chat, Geo-location Services, DropBox, a Personal Information Management (PIM) suite, Office Suite, Office 365, File Sync, and Secure Mobile App Management & Development functions. Secure.Systems™ can be deployed via on-premise or through cloud-based managed service. For more information about Secure.Systems™ deployment via managed service please visit https://secure.systems. SyncDog offers a free 30-day trial of Secure.Systems™ at https://mmc.secure.systems/SignUp.
About HiMSS
HIMSS is a global voice, advisor and thought leader of health transformation through health information and technology with a unique breadth and depth of expertise and capabilities to improve the quality, safety and efficiency of health, healthcare and care outcomes. HIMSS designs and leverages key data assets, predictive models and tools to advise global leaders, stakeholders and influencers of best practices in health IT so they have the right information at the point of decision.
HIMSS drives innovative, forward thinking around best uses of technology in support of better connected care, improved population health and low cost of care. HIMSS is a not-for-profit, headquartered in Chicago, Illinois, with additional offices in North America, Europe, the United Kingdom and Asia.
About SyncDog, Inc.
SyncDog is the leading ISV for building mobile IT frameworks that extend enterprise app functionality to mobile devices while securing networks from mobile-endpoint threat. SyncDog Secure.Systems™ delivers an unimpeded, fully-functional mobile app experience that supports Microsoft OneDrive, Office 365, Skype for Business, and other Microsoft productivity apps within a NIST-certified, FIPS 140-2 workspace. The Secure.Systems™ mobile-app mobile workspace is ideal for organizations that want to deliver a rich mobile app experience across BYOD, CYOD, or other device policy. Secure.Systems™ can be deployed as managed service from https://secure.systems or as an on-premise solution.
Secure.Systems™ can be found on both the Microsoft Azure and MobileIron marketplace exchanges. For more information about SyncDog, please visit https://syncdog.com.