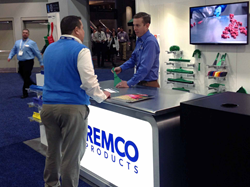 (PRWEB) January 12, 2018
Remco Products will give a presentation on hygienic design standards at the International Production & Processing Expo on Thursday, Feb. 1, 2018. The presentation will be titled "Hygienic Design for Cleaning and Food Handling Tools," and will take place from 10-10:20 a.m. in Booth B8715.
Rob Middendorf, business development director at Remco Products, will be delivering the presentation. Along with some of his colleagues, he'll be available to answer questions at Booth B4716 throughout the three-day Expo. Topics covered in the presentation include specific hygienic design standards, such as BRC, FSSC 22000 v. 4.1, and SQF Code Edition 8, and real-world applications. He will also include information on HARPC, preventive controls, and cleaning tools as vectors of contamination.
Participants interested in attending the session should make their way over to Booth B8715 about 10 minutes early to ensure a good spot. Plan on the presentation lasting 20 minutes, hopefully with time for questions. Those who are interested in food safety, want to know more about HARPC or any updated design standard such as SQF Edition 8, or are in charge of food industry sanitation measures won't want to miss this.
About Remco Products
Remco provides color-coded tools for cleaning and material handling where hygiene and safety are critical. The introduction of a food-safe poly shovel more than 30 years ago established Remco as an industry pioneer of hygienic design. In addition to its hygienic shovels, scoops, and scrapers, Remco features Vikan's advanced line of brushes, brooms, and squeegees. Together with Vikan, Remco supports color-coding plans by offering more tools in more colors than any other supplier. Remco also provides training and support to end users, helping ensure regulatory compliance. Regardless of an operation's size or complexity, Remco has the tools and expertise to help execute HACCP color-coding plans. To contact Remco Products, please visit us at remcoproducts.com, email us at cs(at)remcoproducts(dot)com, or call 317.876.9856.