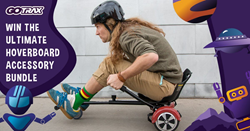 DENVER (PRWEB) January 11, 2018
GOTRAX™, the Denver-based brand of electric rideables driven by imagination and innovation with a focus on science and education, announces a nationwide hoverboard accessory bundle giveaway featuring its HOVERFLY KART, and signature multi-sport youth GOTRAX HELMET.
GOTRAX™ will be giving away one each of the recently launched accessories (HOVERFLY hoverboard not included). Hoverboard kart hopefuls who are at least 13 years of age and living in the Continental United States can enter to win at the official contest page until January 22, 2018.
The HOVERFLY KART is an accessory capable of transforming any GOTRAX HOVERFLY hoverboard (or most any self-balancing scooter) into a fast, nimble, three-wheel electric hoverboard go-kart.
When connected to a HOVERFLY hoverboard, the HOVERFLY KART allows the rider to sit comfortably in the race-inspired bucket seat and accelerate, stop and steer with intuitive hand controls via the ergonomic space-foam handlebar grips. The HOVERFLY KART harnesses the space-age gyroscopic technology of hoverboards to create an entirely new electric-powered experience.
Designed for use with its HOVERFLY hoverboards and electric rideables, the GOTRAX HELMET is suitable for multi-sport protection and is fully CPSC compliant for bicycle use and ASTM F1492-15 compliant for skateboarding and trick skating.
Featuring high-grade, lightweight, in-mold construction, the HELMET's EPS liner is engineered to dissipate impacts and wrapped in a durable polycarbonate outer shell. Details include 11 vents for continuous cooling airflow and comfortable sweat-absorbing, removable, washable padding. Deep rear coverage maximizes protection, and adjustable straps and an Autodial feature make for the perfect fit.
MEDIA KITS:
HOVERFLY KART
HOVERFLY HELMET
The GOTRAX™ HOVERFLY KART and HELMET retail for $69.99 and $39.99 respectively and are available at a discounted introductory price for a limited time ($59.99 and $19.99) now at GOTRAX.com and other fine retailers.
Visit the official contest page for full rules and regulations.
HOVERFLY KART SPECIFICATIONS

Designed in Denver
Compatible with most hoverboards with 6.5, 8, 8.5 and 10-inch wheels
Telescoping adjustable steel tube frame fits most children and some adults
Maximum weight 264 pounds
Minimum weight 44 pounds
HELMET SPECIFICATIONS

Designed in Denver
In-mold construction
11 vents
Adjustable straps
Autodial fit system
Removable, washable padding
Three Cosmic Colors (Pulsar Pink, Nebula Black and Moonlight White)
Sizes: S, M, L
CPSC and ASTM F1492-15 certified
GET SOCIAL: @RideGOTRAX
ABOUT GOTRAX
Welcome to the GOTRAX™ GALAXY, where every day's the weekend and robots are our friends. We're on a mission to create electric rideables that boost imaginations and the possibilities for personal transportation. As of 2017, GOTRAX™ is dispatching electric rideables across the planet, starting with the HOVERFLY two-wheel self-balancing electric scooter aka hoverboard. Our company values start right here in our Denver-based marketing headquarters, where our team works their space boots off to raise the standards of the electric rideables industry, with a brand focus on science and education designed to encourage a sense of learning and discovery for children.
GOLABS, INC™ DBA GOTRAX™
###
MEDIA INQUIRES
Don Stefanovich | press(at)gotrax(dot)com