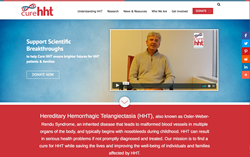 Cure HHT is leading the charge to find a cure for this devastating hereditary disease today, so that the next generation does not have to face the same challenges.
MONKTON, Md. (PRWEB) January 12, 2018
Cure HHT, the national advocacy organization for people with the rare hereditary disease HHT, has launched a new website as part of their ongoing commitment to raise awareness of the disease, improve treatments, increase patient access to care, and ultimately find a cure. Visit http://www.CureHHT.org.
Hereditary Hemorrhagic Telangiectasia (HHT) is a cruel and unrelenting disease, affecting families for generations. While it can have seemingly mild symptoms like frequent nosebleeds, it can result in disabling and catastrophic events. This hereditary disorder creates abnormalities in blood vessels. They are fragile and thus susceptible to rupture and bleeding, which can result in lung and brain hemorrhage, stroke, and death. HHT, like ALS (called Lou Gehrig's Disease), is a rare disease, affecting an estimated 1 in 5,000 people, but it receives far less research grants and is often misdiagnosed. Importantly, only 10% of people with HHT know they have it.
Cure HHT recently celebrated 25 years of building awareness of HHT, educating the public and medical professionals, leveraging funding for research, and advocating for patients and families affected by the disease. The new website showcases their tireless work to make an impact. It also reinforces Cure HHT's role as the only national advocacy organization for the disease and the convener of international scientific conferences to advance the study of the disease.
Starting 2018 with a new website, also brings a renewed energy. The new site makes it easier to browse the extensive Resource Library with important fact sheets, brochures, webinars, and more, extremely useful for patients and doctors alike. The research tab has organized all of Cure HHT's Grants, Strategies, and Funding Portfolios into one user-friendly section, including links back to publications in the resource library.
Two important sections are "Newly Diagnosed" and "Understanding HHT", with simple, clean language to help explain this complicated disease and the critical measures each person should take on being diagnosed. The News & Resources tab contains blogs, past newsletters, webinars, a listing of the 27 HHT Centers of Excellence that the organization has helped launch around the country, and the "Find A Doctor" searchable directory of experts.
"Cure HHT is leading the charge to find a cure for this devastating hereditary disease today, so that the next generation does not have to face the same challenges," comments Marianne Clancy, Cure HHT Executive Director. "The creation of a complete online resource for both patients and medical professionals is a significant step towards fulfilling our mission. The new website will also help us reach the estimated one million people who have HHT but are unaware that they are susceptible to the ravages of this disease and that they have a fifty percent chance of passing it on to their children."
Since 1991, Cure HHT has consistently been at the epicenter of the national and global effort to advocate for patients and families, raise awareness of HHT, catalyze and sponsor critical research, create lasting collaborations and advance emerging treatments. Cure HHT has the perseverance and experience to integrate and drive vital progress across the patient, medical, and scientific communities. For more information visit http://www.CureHHT.org.
###
Editor's Notes: