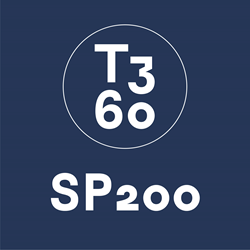 Over 400 hours are spent each year researching and analyzing the approximately 3,000 CEOs and executives who are considered.
SAN JUAN CAPISTRANO, Calif. (PRWEB) January 16, 2018
Gary Keller, the founder and Chairman of the Board of Keller Williams Realty International, climbed two slots to become the most powerful person in real estate for 2018, according to the Swanepoel Power 200 (SP200), released by T3 Sixty today.
Keller Williams also became the largest residential real estate brand in the U.S. by sales volume as of the fourth quarter of 2017, according to T3 Sixty analysis. It was already the largest residential real estate brand in the U.S. by agent count, growing to a record-breaking 154,675 sales associates.
Zillow Group's steady growth and accomplishments under CEO Spencer Rascoff kept last year's highest-ranked leader at No. 2. Company revenues were up 25 percent year-over-year to $281.8 million, and Zillow web properties remain the most trafficked real estate websites in the U.S. by a large margin.
HomeServices of America, a Berkshire Hathaway company and the second largest brokerage company in residential real estate, is led by CEO Ron Peltier, the third highest-ranked executive on the SP200. The company had a strong 2017, which included the acquisition of the third largest brokerage in the U.S., Long & Foster; it was the largest acquisition in the brokerage industry for the year. With post-acquisition annualized sales of $123.6 billion, HomeServices is only the second real estate brokerage to have annual sales in excess of a hundred billion. NRT, a subsidiary of Realogy Holdings, is the current market leader with an estimated 2017 sales volume of almost $167 billion.
The SP200 is the only ranking of the residential real estate industry's most powerful leaders and executives. T3 Sixty, the custodian of the annual rankings, devotes over 400 hours each year researching and analyzing the approximately 3,000 CEOs and executives who are considered. This year, the rigorous three-part methodology lists 274 leaders in eight categories: Corporate Executives, Power Brokers, Women Leaders, Technology Executives, Executives, Organized Real Estate Leaders, Emerging Leaders, Trendsetters and Social Media Influencers.
Two notable changes include: Glenn Kelman, who led Redfin to a successful IPO in July, jumped 20 spots to the No. 9 position; and Compass's leaders, Robert Reffkin and Rob Lehman, who raised $550 million in 2017 on a $2.2 billion valuation, skyrocketed to No. 32. After a strong year of growth, new business model CEOs all climbed the list, including Glenn Sanford (No. 88), founder and CEO of eXp World Holdings; Dan Duffy (No. 102), CEO of United Real Estate; and James Dwiggins (No. 105), CEO of NextHome.
Various top-ranking CEOs all retired during the past 12 months and dropped off the list. This included Richard Smith (2017's No. 2), Realogy Holdings chairman, president and CEO; Dale Stinton (2017's No. 6), CEO of the National Association of Realtors; Alex Perriello (2017's No. 7), CEO of Realogy Franchise Group; and Bob Moline (2017's No. 11), president of HomeServices of America.
Rankings with bios and photos of all executives are listed at http://www.sp200.com.
________________________________________
About T3 Sixty
T3 Sixty is the largest management consultancy dedicated to the residential real estate brokerage industry and has served the industry since 1998. The company is also author and publisher of 36 reports and studies analyzing the industry, including the Swanepoel Trends Report, the DANGER Report and the SP200. Learn more at http://www.t360.com.