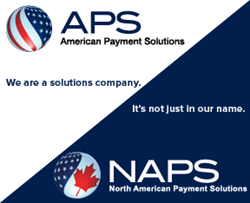 American Payment Solutions is constantly seeking to be a Technology Leader and Partner in the Payments Industry and this Acumatica Summit Gold Sponsorship confirms, once again, our commitment - Stated Phillip Heath, President of American Payment Solutions.
Mesa, AZ (PRWEB) January 23, 2018
American Payment Solutions (APS), leading integrated Acumatica merchant services solution, announces Acumatica Summit 2018 Gold Sponsorship. The Acumatica Summit 2018 offers Acumatica customers, partners, and industry analysts an in-depth look at Acumatica and integrated vertical solutions built to address the unique needs of many different industries.
APS' Acumatica merchant services integration is an Acumatica-Certified Application (ACA). This title represents a select group of development partners whose applications have met the highest standards set for Acumatica integration and functionality. Acumatica is a comprehensive, browser-based cloud ERP solution optimized for ease of use, adaptability, mobility, speed and security.
"Customers who want to stay competitive need flexible, responsive technology to execute their long-term business strategies," said Christian Lindberg, Vice President of Partner Solutions at Acumatica. "Our ACA label is built to help customers find applications capable of delivering that. We're proud to recognize American Payment Solutions as an Acumatica-Certified Application. It masterfully utilizes the Acumatica platform to meet customers' growing business demands."
The Acumatica Summit 2018 will take an in-depth look at the new features of Acumatica including updates to the Customer Management, Finance and Accounting, Distribution, Project Accounting and Field Service suites.
About American Payment Solutions
American Payment Solutions is one of the nation's leading credit card processing companies, providing 24/7 award-winning customer support, guaranteed rates, and up-to-date technology to thousands of merchants. American Payment Solutions is headquartered in Mesa, AZ with several field offices throughout the United States and Canada. For more information, please visit http://www.apsmerchants.com. American Payment Solutions is a registered ISO/MSP of Esquire Bank, Garden City, NY 11530. North American Payment Solutions is a registered MSP/ISO of the Canadian branch of U.S. Bank National Association and Elavon, Inc. Georgia [a wholly owned subsidiary of U.S. Bancorp, Minneapolis, MN].
About Acumatica
Acumatica provides cloud-based business management software that empowers small and mid-size businesses to accelerate their businesses and drive growth. Built on cloud and mobile technology and a unique customer-centric licensing model, Acumatica delivers a suite of fully integrated business management applications, such as Financials, Distribution, CRM and Project Accounting, on a robust and flexible platform. In an interconnected world, Acumatica enables customers to take full control of their businesses, play to their organizations' unique strengths and support their clients by following them anywhere on any device. For more information, visit acumatica.com