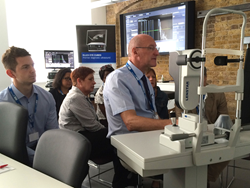 HARLOW, UK (PRWEB UK) 12 January 2018
The Basic course, covering 'Improving Outcomes' standard biometry methods, has completely sold out. However, there are still limited spaces available for the second day, which will focus on more advanced techniques.
The Advanced Course will include lectures on topics such as; 'TORIC IOL surgery' and 'IOL power calculation'. HS-UK will also host practical, hands-on workshops which will support a range of subjects, including; adding & editing IOLs & power calculation formulae, immersion ultrasound and TORIC IOL planning.
Speakers for the event are confirmed as; Mr David Sculfor, Consultant Optometrist at Stoke Mandeville Hospital and Mr Peter Wilson, Consultant Ophthalmologist at NHS Fife & Forth Valley. Both are widely-recognised as experts in their field. The course has been awarded 6 CPD points.
The price for the Advanced course is just £100 (ex VAT). To book a place on the course, visit http://www.haagstreituk.com/improvingoutcomes , or to register your interest in future events, email ceat(at)haag-streit-uk.com.
For news media enquiries, please contact:
Erika Poole
Marketing Co-ordinator
Email: epoole(at)haag-streit-uk.com
DDI: 01279 456260