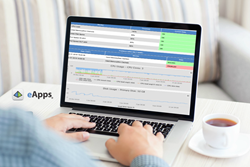 The alert feature of our real time, easy to use, Resource Monitoring service for the Virtual Cloud Platform spotlights resource issues before they become problematic. It's always better to prevent a problem than to fix one. Rick Lingsch, President
NORCROSS, Ga. (PRWEB) January 17, 2018
eApps Hosting recently launched an advanced Resource Monitoring service, designed to ensure that virtual cloud servers are performing as expected. The service checks the actual usage of CPU, RAM, Disk, and data traffic ports at frequent intervals, and can send alerts to defined recipients when usage of any resource exceeds specified thresholds. The service is included at no extra charge with the purchase of an eApps Virtual Cloud Server subscription. A reasonably priced managed service option, called First Responder, is available for customers that want the 24/7 eApps Support team to take action within minutes if the monitor issues an alert.
The two significant advantages of the Resource Monitoring service are that it operates in real time, and it can be administered by a non-technical user. The service captures usage data for each key Virtual Cloud server resource every few minutes, and proactively issues alerts when resources are out of tolerance. It also provides current and recent usage information in a highlighted format. Historical usage, for up to three months, is provided in graphical form for easy analysis. Users can select thresholds and define users and groups to receive alerts. With the First Responder option, users can provide specific instructions to eApps Support for the handling of alerts.
When used in conjunction with the free, included Uptime Monitoring service, eApps provides a complete set of tools to monitor the health and availability of Virtual Cloud servers. For customers that seek a higher level of care, the reasonably priced First Responder managed service option provides peace of mind that issues will be handled quickly and effectively.
The Resource Monitoring service is a product of eApps Hosting. The eApps Virtual Cloud Platform, running on high performance servers, network, and SSD storage, is available in multiple US data centers. For more information contact eApps Hosting at +1-770-448-2100 USA or +44 (0)20 8133 6940 UK, Skype: eappshosting, sales(at)eApps.com, or visit http://www.eApps.com for online chat assistance.