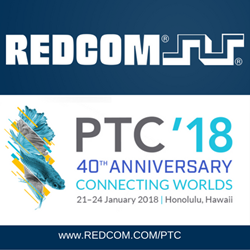 We're looking forward to renewing our personal friendships and discussing the solutions needed by today's service providers to secure their networks, prevent toll fraud, and efficiently consolidate their networks for the future
VICTOR, N.Y. (PRWEB) January 15, 2018
REDCOM Laboratories, Inc., the leading supplier of integrated communications systems, is pleased to announce it will be attending the Pacific Telecommunications Council annual conference, 21-24 January 2018. At PTC'18, REDCOM will be conducting private demonstrations of CrucialConnect, a family of customizable and deployable packages designed to restore critical communications in minutes.
"REDCOM's strength has always been in delivering highly robust communications technology to some of the most challenging environments on earth," said REDCOM President Dinah Gueldenpfennig Weisberg. "Our products provide our customers with unparalleled connectivity and security in the IP environment while enabling a means for seamless fallback in the event that the primary network is rendered inoperable due to crisis or natural disaster."
Developed in partnership with NViS Communications, CrucialConnect HF is a fully integrated kit that does not require any manual intervention to complete voice or data connections. "The system enables reestablishment of voice, data and email transmittal back to the PSTN from an area with zero communications infrastructure," said John Rosica, NViS Communications President. "We are seeing many service providers, governments, and emergency management agencies very excited about this unique communications solution we've built in partnership with REDCOM."
In addition to showcasing the new CrucialConnect HF platform, the REDCOM team will be conducting private meetings with many customers from the Pacific Islands.
"REDCOM has a long history of providing world-class solutions and support for the telecom service providers of the Pacific Islands," said Bill Ciminelli, VP Sales, REDCOM. "At PTC we're looking forward to renewing our personal friendships and discussing the solutions needed by today's service providers to secure their networks, prevent toll fraud, and efficiently consolidate their networks for the future."
To secure some time with the REDCOM team at PTC, or to see a live demo of CrucialConnect, book an appointment at http://www.redcom.com/ptc.
About REDCOM
REDCOM specializes in the design and manufacture of innovative communications solutions with a focus on interoperability, reliability, and security. Located in Victor, New York, REDCOM's global customer base includes commercial telecom carriers, private networks, integrators, and government and defense agencies. For additional information, please visit the REDCOM website at http://www.redcom.com.
About NViS Communications
NViS Communications, LLC is a highly specialized telecommunications systems integrator with expertise in design development and implementation of mission critical infrastructure-less fallback communications systems. If your mission is to communicate around the corner or around the world using voice, data, or a combination of both, NViS has the solution. Visit the NViS Communications website at http://www.nviscom.com for more information.