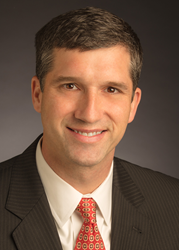 BIRMINGHAM, Ala. (PRWEB) January 16, 2018
Wilmington Trust, N.A. added Will Estess as client development officer to its Public Finance and Agency team in the corporate trust office in Birmingham, Ala. Estess is responsible for introducing Wilmington Trust's corporate trust services including trustee, paying agent, and escrow agent to corporations, municipalities, and other institutions throughout the Southeastern United States.
Before joining Wilmington Trust, Estess was an equipment finance relationship manager at Regions Bank. He has 12 years of commercial banking experience including credit analysis, lending, and portfolio management roles. Estess has experience working with corporations, municipalities, issuing authorities, school boards, utility districts, cooperatives, and various 501(c)3 organizations.
Estess earned a Bachelor of Business Administration in Real Estate, Banking, and Finance from Mississippi State University. He is active in the community, previously serving on the governance committee of the Vestavia Hills Rotary Club, and is an active volunteer for the Junior Achievement's JA in a Day program.
Estess is based in Wilmington Trust's corporate trust office at 505 20th St., Suite 1750, in Birmingham. He can be contacted at (205)986-7535.
ABOUT WILMINGTON TRUST
Wilmington Trust, N.A. provides Corporate and Institution Services including institutional trustee, agency, asset management, retirement plan services, and administrative services for clients worldwide who use capital markets financing structures. The corporate and institutional division is distinguished from many competitors by its status as a core business of Wilmington Trust, as well as the experience and expertise of its global staff and its multi-jurisdictional presence.
Wilmington Trust also provides Wealth Advisory services with a wide array of personal trust, financial planning, fiduciary, asset management, and family office solutions designed to help high-net-worth individuals and families grow, preserve, and transfer wealth.
Wilmington Trust has clients in all 50 states and in more than 90 countries, with offices throughout the United States and internationally in London, Dublin, and Frankfurt. For more information, visit http://www.WilmingtonTrust.com.
# # #
MEDIA CONTACT: Alexandra Gambale, Peppercomm (212)931-6170
Wilmington Trust is a registered service mark. Wilmington Trust Corporation is a wholly owned subsidiary of M&T Bank Corporation. Wilmington Trust Company, operating in Delaware only, Wilmington Trust, N.A., M&T Bank and certain other affiliates, provide various fiduciary and non-fiduciary services, including trustee, custodial, agency, investment management and other services. International corporate and institutional services are offered through Wilmington Trust Corporation's international affiliates. Loans, credit cards, retail and business deposits, and other business and personal banking services and products are offered by M&T Bank, member FDIC.