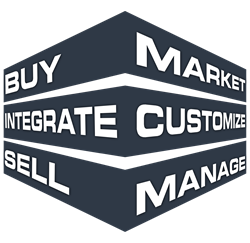 We really like the added security benefits and speedy transaction time the Index and LOC solutions provide our stores.
LAVAL, Quebec (PRWEB) January 15, 2018
LOC Software, developer of a leading retail management software suite, and Index, the leading retail software provider that created 1-Second EMV, announced the release of Index's true semi-integrated payment solution for LOC's SMS POS platform. The combined solution offers independent grocers the fastest EMV checkout experience in the US, industry-leading payment encryption, and the most powerful tools to unify front end, back office, headquarters, personnel and customers.
The new payment solution has been piloted at several grocery chains throughout the US for several weeks now. One such chain, Nam Dae Mun Farmers Market, based in Greater Atlanta, agrees the combined solutions offer many benefits to their stores. "We really like the added security benefits and speedy transaction time the Index and LOC solutions provide our stores," adds Alice Kim, Finance Director at Nam Dae Mun. Ms. Kim's team also benefits from capturing customer emails at the point-of-sale and offering those customers the option of emailed receipts.
The new payment interface is fast – real fast – speeding up lines by up to 15% and offering customers an EMV (chip card) experience that's as fast and easy as a magnetic swipe. Security is greatly enhanced too — Index's semi-integrated solution routes payment card data directly from the PIN pad to the processor, fully removing LOC SMS from PCI scope to dramatically reduce compliance burdens. With this semi-integrated architecture, it becomes extremely easy to deploy software and security updates to the PIN pad, so merchants can take advantage of the latest payment and security advancements like contactless EMV and point-to-point encryption (P2PE).
Grocers also benefit from integrated customer engagement features like email capture and digital receipts. When customers checkout, they can enter their email right on the PIN pad to sign up for convenient digital receipts and opt in to marketing communications. Index remembers customer preferences so they'll automatically receive e-receipts upon future visits. Captured emails can also integrate with LOC's targeted offer module, allowing grocers to specifically market to consumers based on shopping trends.
"This integration has been highly anticipated by our teams and our channel because we knew it would be a big hit with our independent grocers," said Francois Labelle, Director of Development at LOC. "Every retailer can benefit from a flexible, future-proof solution that improves security and reduces costs, while speeding up checkout and improving customer engagement."
"We're happy to work with great partners like LOC to bring powerful, comprehensive solutions to their channel and independent grocers," said Moses Mederos, Director of Strategic Partnerships at Index. "Our goal is to equip retailers with fast, secure, reliable and flexible tools so they can spend less time managing their technology and more time with their customers and growing their business."
The solution is supported on Verifone and Ingenico PIN pads and certified to major payment processors including Chase Paymentech, First Data, Vantiv, and Worldpay.
About LOC Software
LOC Software delivers solutions designed to make transactions more manageable, more profitable and more frequent by fully integrating retail operations for multi-store environments. Our Store Management Suite (SMS) is a complete set of applications tailored into one seamless interface, satisfying all a retailer's needs, from powerful merchandising and inventory control, fully integrated loyalty, multi-store management and more.
About Index
Index, based in San Francisco, is a leading retail software company that helps retailers transform their in-store payments and build their customer contact database. Index provides a semi-integrated payment solution and hosted gateway for 1-Second EMV, point-to-point encryption (P2PE) and remote device management. Its unique point-of-sale (POS) integration enables retailers to build an account for every shopper, capture customer contact data, drive opt-in to deliver personalized marketing, and optimize every campaign. For more information, visit http://www.index.com.
Media Contacts
LOC Software
Jamie Gray
jamie.gray(at)locsoftware(dot)com
Index
Elizabeth Fontaine
elizabeth(at)index(dot)com