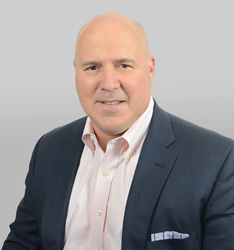 NEW YORK (PRWEB) January 16, 2018
Lynx Technology Partners (Lynx), one of Inc. Magazine's fastest-growing private companies and ranked among the top US security companies for consecutive years, proudly announces its hiring of Stephen Spagnuolo as Vice President of Business Development. Stephen's core responsibilities will be to source, develop and manage key strategic client relationships.
Spagnuolo brings a long track record of recruiting senior and next-level-down security leaders on behalf of a wide-ranging client base. Stephen has supported the requirements for leading global investment banks to pre-funded emerging growth companies and consulting organizations of all sizes. "When Lynx approached me about joining the team, it immediately resonated. Essentially, I will be supporting the same CISO/CSO target community, with a rich and expansive strategic solutions offering. I'm excited and look forward to collaborating with the exceptional team at Lynx."
Lynx CEO Gina Mahin states, "We are excited to have Stephen as our new Vice President of Business Development. He will add a lot of value based on his experience and relationships within the Cyber Security and Risk Management industry. He offers a fresh perspective and insight into the needs of the organizations that we serve."
A graduate of the US Naval Academy, Spagnuolo later served with distinction as a Marine Corps infantry officer. He's been published in The Wall Street Journal (CISO assessment study), and is a featured cyber blogger for CSO Online and HMG Strategy; the latter for which he also serves as a founding advisory board member for HMG Strategy's CISO Executive Leadership Summit Series.
About Lynx Technology Partners, Inc.
Lynx Technology Partners is the trusted Information Security and Risk Management Advisor that customers in highly-regulated industries worldwide depend on to improve security posture, facilitate compliance, reduce risk, and refine operational efficiency. With world-class skills and knowledge capital built over 30 years, Lynx security experts help customers recognize and control IT-related risks and maintain compliance with major industry and government standards. Through consulting, security and risk assessments, penetration testing, managed security services, and an award-winning GRC solution, Lynx supports many critical projects for security-conscious leaders in Financial Services, Federal, Energy, Healthcare, State Government, and Higher Education. For more information, please visit LynxGRC.com.