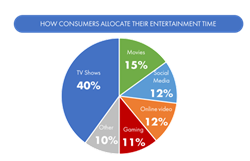 Almost half of consumers' entertainment time is spent watching TV shows.
BOSTON (PRWEB) January 15, 2018
Today's consumers have instant access to an unprecedented range of screen-based entertainment options – from live and on-demand TV, to videos on YouTube, to gaming, to social media. One thing that has not expanded, however: consumers' disposable time. Hub's newest study, "The Battle for Share of Mind," takes a deep look at how consumers allocate their time, and what makes them choose some categories or providers over others.
1. Across all age groups, watching TV shows accounts for more screen time than any other form of entertainment: Respondents estimate that 40% of their entertainment time is spent watching TV shows: more than three times the amount they spend on either social media or watching YouTube videos.
2. But among younger consumers, gaming and YouTube are undermining TV's dominance: Just 19% of entertainment time among 18-24 year olds is spent watching TV shows, vs. a total of 43% spent on online videos and gaming.
3. Scripted shows make up the largest portion of consumers' TV viewing. Nearly half of viewers' TV time is spent watching scripted shows (45%)—compared to 16% for sports, 15% for news, 15% for unscripted shows, and 8% for other genres. But among men, time spent watching scripted shows is significantly lower than average (37%); time watching sports is significantly higher (24%).
4. The "Big Three" SVODs serve different content needs. People watching Netflix say they spend more time watching Netflix originals (37% of their total viewing) on that service than anything else. Hulu viewers primarily use it to watch shows from traditional TV networks (54% of their viewing). And Amazon Prime viewers are most likely to be watching movies (39% of their viewing).
5. Consumers have distinct preferences for the networks they prefer for different genres—and Netflix is strongly in the mix. When asked which sources would make them most interested in trying a brand new show, Netflix was number one in drama (ahead of HBO). Netflix also ranked first for "original" shows generally, across genres.
"Given that we're in the much-touted era of 'peak TV', it's not surprising that TV shows are consumers' first choice for entertainment," said Peter Fondulas, co-author of the study and principal at Hub. "But there's an equally important trend in our findings: Even with more high-quality TV shows to choose from than ever before, TV faces fierce competition among young consumers, who spend the vast majority of their entertainment time with non-TV options—like social media, online video, and gaming."
"Today a lot of the attention goes to the competition for premium video viewers—between pay TV companies and Netflix, for instance," said Jon Giegengack, co-author of the study. "But this research reminds us that for young consumers, things like short-form video and gaming are re-defining what it means to 'watch TV'. Entertainment time is finite, and new habits formed today may dictate the size of the pie premium video providers compete for in the future."
About this Research 
"The Battle for Share of Mind" was conducted among 1,774 US consumers with broadband and who watch at least 5 hours of TV per week. The data was collected in December 2017. An infographic and excerpt of the report are available as a free download from Hub Entertainment Research.
About Hub Entertainment Research
Hub Entertainment Research measures and interprets the influence of technology on the ways consumers discover and consume entertainment in today's rapidly changing media environment. We are experts in our field and work with industry leaders to assess the present and forecast the future. Learn more at Hub.