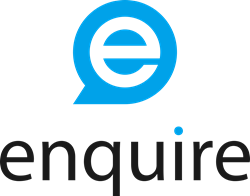 DENVER (PRWEB) January 16, 2018
Enquire Solutions (Enquire), the fastest growing provider of CRM software and call center services in the senior housing and post-acute industry, was recognized by Entrepreneur magazine in their annual Entrepreneur 360™ list as one of the 2017 Best Entrepreneurial Companies in America.
Every year, Entrepreneur magazine identifies 360 small, private businesses that are mastering the art and science of growing a business. The Best Entrepreneurial Companies in America award is given to leaders who can expertly balance impact, innovation, growth and leadership to grow their business. Enquire claimed the No. 180 spot.
"It is an honor to be recognized by Entrepreneur Magazine. Enquire has been a disruptor in the industry and solved a large problem which is offering innovative sales and patient engagement technology that allows providers to better serve customers and make more informed decisions for their organizations," said Lucas Hayes, President and CEO of Enquire. "Our software and contact center services enable providers across the senior living and post-acute continuum to grow census, provide great customer service and reduce readmission rates through cutting edge technology coupled with unmatched data analytics."
Entrepreneur 360 honorees were identified based on the results from a comprehensive study of independently-owned companies, using a proprietary algorithm and other advanced analytics. The algorithm was built on a balanced scorecard designed to measure metrics reflecting major pillars of entrepreneurship: innovation and technology; management efficiency and business sustainability; and revenue.
Enquire's focus on innovative software and technology enabled services has defined them as the industry leader in lead capture, sales conversions, patient engagement reports, and overall results. The company is continuing to grow and their workforce has more than doubled since the Entrepreneur Magazine evaluation was conducted. Last year, Enquire moved from its 6,000-square-foot office to a 25,000-square-foot headquarters in the Denver Tech Center. Since inception, Enquire has experienced a year-over-year average growth rate of over 152 percent and nearly quadrupled revenue from 2016 to 2017. Currently, thousands of client communities and ancillary service providers in the United States and Canada utilize Enquire to ensure every potential resident, patient or referral source gets the attention they deserve. Enquire continues to grow and believes 2018 will be their biggest year yet. "As more providers learn their competition has adopted Enquire as a pillar of their success, we believe the velocity of our growth will continue for years to come," Hayes said.
For additional information about the Entrepreneur 360 list, visit http://www.entrepreneur.com/360.
ABOUT ENQUIRE SOLUTIONS
Enquire Solutions is the fastest growing CRM and call center solution for the senior living and post-acute care industry. Enquire designs and implements customized solutions that support each client's onsite staff. Headquartered in Greenwood Village, Colorado, Enquire Solutions serves providers throughout the United States and Canada. Their vision is to improve the experience for prospects, patients and family members with their customer service focused products. Their cutting-edge analytics provide the executive team insight into the sales process and marketing efforts. Visit http://www.enquiresolutions.com and connect with the company on Facebook, Twitter, and LinkedIn.
Media Contact: Grace Linden, Enquire Solutions, grace.linden(at)enquiresolutions(dot)com