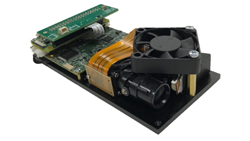 "Customers can take this platform and build a complete embedded solution using its robust processing and flexible interface capabilities", said Adam Kunzman, President and CEO.
ALLEN, Texas (PRWEB) January 23, 2018
Keynote Photonics announces the release of the 2nd generation FlexLight LC3000 series that supports the well-known Raspberry Pi platform at a breakthrough price of $499. The LC3000G2-Pi is compatible with the Texas Instruments Lightcrafter API. It becomes the latest, most cost-effective platform for 3D machine vision and is also suitable for retinal scanning and other advanced light steering applications.
Keynote includes a Raspberry Pi application that allows users to fully customize the operation to support any 3D measurement or other light-steering design. Users are also free to develop their own applications to control the LC3000G2-Pi using the Raspberry Pi processor board.
"Customers can take this platform and build a complete embedded solution using its robust processing and flexible interface capabilities," said Adam Kunzman, President and CEO.
Keynote also introduces the LC3000G2-PRO, which utilizes the same architecture as the original TI Lightcrafter design while using an enhanced brightness pico-projector light engine. This platform provides a seamless transition for those customers using the existing Lightcrafter platform which is now moving to end-of-life.
The LC3000G2-Pi and the LC3000G2-PRO are powered by Texas Instruments' DLP3000 chipset, which enables reliable, high speed spatial light modulation with pattern rates over 4 KHz. In addition to enhanced brightness, the LC3000G2-PRO offers a factory focus lock solution, a 140-mm short-focus standoff, and forced-air cooling. Initial production has begun with general availability slated for March 2018.
Three configurations are available:
LC3000G2-Pi: This cost-effective platform can be directly used with a Raspberry Pi Zero or Pi 3 processor and includes the Keynote pattern controller software. The kit provides everything needed to connect and power a user supplied Raspberry Pi.
LC3000G2-PRO: This production-ready solution is a complete industrial projector with up to 100 lumens of light output. It consists of 3 sub-assemblies: a driver board with TI DM365 DSP, a 100 lumen WVGA light engine and an optional 3-channel LED driver board for up to 200 lumens of monochrome brightness.
LC3000G2-EKT: This complete electronics controller is ready to integrate with any customer-designed optical system. An optional 10 cm DMD flexible cable is available.
Availability and Pricing
LC3000-G2 series is available now, with a suggested starting retail price of US $499 for the LC3000-G2-Pi. To order and learn more about these products, please visit https://www.keynotephotonics.com/lc3000g2 . Additionally, you can experience the LC3000G2 series in person at SPIE Photonics West, from January 30th in San Francisco, CA at the Keynote Photonics suite. To schedule a meeting, please send a request at our contact page at http://www.keynotephotonics.com/pw2018 or e-mail us at info(at)keynotephotonics(dot)com.
About Keynote Photonics
Keynote Photonics is a developer of leading solutions, tools and processors for photonics applications using MEMS technologies and is ISO9001:15 certified. Keynote is a privately held company. For more information, visit About Keynote Photonics
FlexLight is a trademark of Keynote Photonics.
DLP and Lightcrafter are registered trademarks of Texas Instruments.
Raspberry Pi is a registered trademark of the Raspberry Pi Foundation.
All registered trademarks and other trademarks belong to their respective owners.