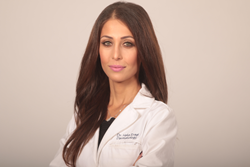 "I'm delighted to begin my time with West Dermatology because it's a neighborhood provider in skin care with a sharp staff focused on comprehensive dermatology," says Dr. Eragi.
RANCHO SANTA MARGARITA, Calif. (PRWEB) January 17, 2018
West Dermatology announces the addition of board-certified dermatologist Dr. Helia Eragi, DO, to its staff in Rancho Santa Margarita, CA. Beginning January 22, 2018, she will join West Dermatology's dedicated staff of expert, innovative medical and cosmetic dermatology specialists.
Dr. Eragi is an alumna of UCLA, where she was an honors graduate (magna cum laude) with a B.S. in Neuroscience before earning her Doctor of Osteopathy (DO) from Western University of Health Sciences in Pomona, CA. She did her dermatology residency at Pacific Hospital in Long Beach, CA, where she was Chief Resident. She is a member of the American Academy of Dermatology (AAD), the American Osteopathic Association (AOA), and the American Osteopathic College of Dermatology.
Dr. Mitchel Goldman, medical director of West Dermatology and Cosmetic Laser Dermatology, as well as double board-certified dermatologist and cosmetic surgeon, says of Dr. Eragi: "Her passion for dermatology and her desire to help others speaks to the core values of West Dermatology. Dr. Eragi specializes in general, cosmetic, and surgical dermatology. She treats a wide array of skin conditions, from psoriasis, eczema and acne to rashes, warts, skin cancer and much more. We're excited that someone of her stature and experience is joining us!"
"I'm delighted to begin my time with West Dermatology because it's a neighborhood provider in skin care with a sharp staff focused on comprehensive dermatology," says Dr. Eragi. "West Dermatology's reputation as a professional, dependable practice was a key factor in my decision, as I was looking for a place to flourish. Patients with cosmetic and medical skin concerns need a staff of thorough, responsive specialists dedicated to delivering safe, effective solutions that are tailored to their specific needs, and West Dermatology has just that."
Regularly published in a wide range of medical journals, Dr. Eragi has an excellent reputation as a researcher and educational seminar presenter. She is a medical, surgical, and cosmetic skin expert who provides comprehensive care in injectables, sclerotherapy, IPL, and other skin conditions. Furthermore, she has an interest in skin cancer and a dedication to providing skin cancer treatment.
"I have a passion for learning how the body works," Dr. Eragi says, "including how it's affected by disease, and then finding ways to safely and effectively treat it. One of the main reasons I chose dermatology was skin cancer; this horrible disease motivates me to find ways to address lesions or growths that my patients present with. These challenges drive me to find the best treatment possible based on each individual's needs, ranging from conservative treatments to surgery, if necessary, in order to either save a patient's life or improve his or her quality of life."
A native of Orange County, Dr. Eragi loves to travel and experience new cultures. In fact, her travels and commitment to medicine have intersected: she's taken medical missions to such places as Kenya and Mexico with non-profit organizations, where she gave her time and shared her medical expertise in underserved communities.
Dr. Eragi is also passionate about treating younger patients and providing them with effective solutions for common skin concerns that can affect their self-esteem and confidence. "My children are part of my inspiration," says Dr. Eragi, "I find it rewarding to help younger patients with their skin issues and concerns. I have a soft spot for them because it's a tough time to go through all the issues they deal with, and skin concerns can worsen the emotional impact."
Fluent in both English and Farsi, she enjoys spending time with her husband and two children, as well as being outdoors and doing fitness training when not practicing medicine. To learn more about Dr. Eragi and her caring, comprehensive approach to dermatological care, visit https://WestDermatology.com/.
Schedule an Appointment with Dr. Eragi Today
For more than 60 years, West Dermatology has been providing patients with the best treatment possible through a combination of expertise, compassion, convenience, and comprehensive care. Through multiple locations across the West Coast in California, Nevada, and Arizona, West Dermatology is always available for our patient's dermatologic needs.
For more information please visit https://www.WestDermatology.com.
West Dermatology
680 Newport Center Dr., Suite 150
Newport Beach, CA 92660
(702) 933-0225
info(at)westdermatology(dot)com