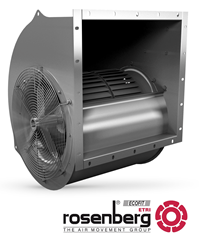 ...for use in wall mount air conditioning units, commercial kitchens and cleanrooms.
CHARLOTTE, N.C. (PRWEB) January 15, 2018
A complete line of high efficiency radial fans ideal for use in wall mount air conditioning units, commercial kitchens and cleanrooms is now available for immediate shipment from Rosenberg USA, Inc. Designated the DRAD Series, these compact blowers feature forward curved impellers in diameters ranging from 5.24 to 15.75 inches, perfect for air conditioning evaporator applications from 1.5-ton to 15-ton capacity.
Rosenberg DRAD blowers provide a maximum 8,800 CFM cooling capacity in a space-saving package without external motors, belts or external shafts. Developed for moving clean air, the fans' impellers are made of galvanized sheet metal directly mounted to the rotor of the external rotor motor.
The company's Charlotte-area warehouse stocks a wide selection of DRAD Series fans ranging from 7" to 12" impeller diameter offering airflow rates up to 5,600 CFM at 1 inch of static pressure. A full line of accessory products and controls are also available.
The high-efficiency radial fans are speed controllable with a VFD and offer extremely low starting currents. They install in any position. Standard motor protection is achieved using thermal contacts in the fans' motor windings. Custom fan and motor development is available to fulfill particular requirements.
About Rosenberg
The Rosenberg family of companies is headquartered in Künzelsau, Germany and employs more than 1,000 individuals worldwide. Rosenberg fans and blowers can be found in HVAC systems, as well as industrial and portable air conditioning; in air cooling for variable frequency drives (VFD), wind power generators and power converters, solar inverters, uninterruptable power supplies (UPS), transformers, heat sinks, fan coils, telecom racks and other industrial equipment; in air handling units and fan filter units (FFU); and in railway, marine, military and avionics equipment.
Rosenberg USA is located just outside Charlotte in Indian Trail, N.C. For more information, or to place an order, contact Rosenberg USA by phone at (704) 893-0883; fax (704) 882-0755 or e-mail sales(at)rosenbergusa(dot)com.
-end-