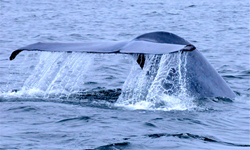 According to Mary Alice Cerrito Fettis, Chair of Whalefest Monterey, "We invite visitors from around the world to experience all of the wonders of this unique festival in the Monterey Bay National Marine Sanctuary!"
MONTEREY, Calif. (PRWEB) January 16, 2018
Don't miss a free fun and educational, interactive family event for all ages that celebrates the migration of the gray whales and much more! The event also benefits many local and national marine organizations that educate, inspire, and empower the public to protect the Monterey Bay National Marine Sanctuary
At a Glance:
What: The Monterey Fisherman's Wharf Association will sponsor and hold the 8th Annual
Whalefest Monterey including a 2-Day Symposium.
Where: At and around Old Fisherman's Wharf, Monterey, California. Directions: https://www.montereywharf.com/map.html
When: Saturday, January 27 and Sunday, January 28, 2018 from 10:00 AM to 5:00 PM.
Special discount Hotel Rates: Special Whalefest Monterey discount room rates are available at the Portola Inn and Spa. Subject to availability, guests can reserve rooms for January 26, 27 or 28 at this website: https://gc.synxis.com/rez.aspx?Hotel=65712&Chain=18268&promo=WHALEFEST
or call reservations at 855-516-1090 and mention Whalefest. Discount room rates available at Comfort Inn on North Fremont and on Munras. Call 372-2908 or 831-373-3081.
Parking:
Park in Waterfront parking lot. Monterey County Residents with local ID (939) can park free for four hours on January 26-28, courtesy of the City of Monterey.
About Whalefest Monterey:
Whalefest Monterey celebrates the migration of the gray whales, and benefits the many local and national marine organizations that build awareness about the Monterey Bay National Marine Sanctuary which educate, inspire, and empower the public to protect it
Among the highlights will be an outstanding 2-day Symposium with lectures by world renowned marine experts and documentaries related to ocean and marine life conservation presented at the Wharf Theatre. Check https://www.montereywharf.com/event/two-day-symposium-at-8th-annual-whalefest-monterey.html for details. There will be many educational displays by organizations that affect the Monterey Bay National Marine Sanctuary.
Weather permitting, whale watching tours, fishing, sailing and glass bottom boats will be operating from the Wharf (for a fee). Wharf restaurants will be serving lunch and dinner and shops will also be featuring marine-themed merchandise.
The two-day event will feature a wide array of fun and informative activities including:

Dee: The Beautiful Inflatable 43-foot Whale will be back at Whalefest. Attendees are able to go inside and see the ribs, heart, lungs, baleen, stomach and esophagus.
A 13-foot whale from MAOS.
Gyutaku, the Japanese art of stenciling fish.
Scrimshaw, the antique art of carving created by Basque and Portuguese whalers.
The popular animatronic Coastie the Safety Boat™, a member of the Coast Guard Auxiliary, Flotilla 64 Monterey, will talk with attendees.
A Fire Boat, US Coast Guard 47' Surf Boat and US Coast Guard 29' Fast Response Boat.
Seafloor Science ROV Summer Day Camp will have underwater Remotely Operated Vehicles (ROVs) for visitors of all ages to "drive" in an enclosed tank!
Marine Life Studies Take it to the Streets™ is partnering with Surfrider for the Whalefest Community Beach & Bike Path Cleanup on Sunday.
Chef Tene Shake of the American Culinary Federation will do seafood cooking demonstrations.
Abalone Races sponsored by Monterey Abalone Company. Watch multi-footed mollusks race marathons.
There will also be many colorful photo ops with costumed animals roaming the Wharf area including a whale, leatherback turtle, mola-mola, shark and the Bag Monster.
The event will feature many other interactive "edutaining" displays and activities on both days from American Cetacean Society, California Coastal Commission, Camp SEA Lab, Coast Guard Auxiliary, Elkhorn Slough National Estuarine Research Reservation, Friends of the Monterey Public Library, Heirs to Our Oceans, Hess Design, Marine Life Studies, Marine Mammal Center, Monterey Academy Oceanographic Science (MAOS), Monterey Fire Department's Fire Boat, Monterey Peninsula Yacht Club, Mt. Madonna School, Otter Project, Pacific Grove Museum, Save the Whales, Seafloor Science ROV. Sea Otter Savvy, Sea Shepherd Conservation Society, Student Oceanography Club, Sustainable Monterey, United State Coast Guard and more.
Whalefest commemorative t-shirts will be available for a donation of $10 and whale and dolphin print aprons will be available for a $18 donation or both for a $25 donation. This year, the donations will benefit the non-profit, CASA, which helps the underserved children of Monterey County.
Live Musical Entertainment
The event will feature an array of great live music both days including Nick Fettis and his "Orca"stra, Richard Carr (Creator/performer of piano/keyboard soundtracks for the soul, mind & body), Mark Richardson ("Mountain Dulcimer of an Eclectic Kind"), Bill Minor (keyboards) & Richard Rosen (harmonica), Kuumbwa Jazz Honor Band, Monterey High School Jazz Band and Jonah and the Whale Watchers.
Event Sponsors
The event's sponsors include Monterey State Historic Park, Marine Life Studies, MAOS, Monterey Signs, Fashion Streaks, Santa Cruz Waves, Pepsi, U. S. Coast Guard Auxiliary, Catalina Photography and the Wecker Group. Media sponsors include KAZU Radio, Monterey Herald and KSBW TV, Central Coast ABC, Estrella TV.
Check out video excerpts from prior years of outstanding Whalefest Monterey Symposium Presentations:
https://www.youtube.com/playlist?list=PLJFlU5j65V2FipOks9r6TbFp00JDLjdS_
https://www.youtube.com/watch?v=_QJ0cVmPtK0&list=PLJFlU5j65V2H4fdLimcb_hklyBvbF9VxU
For more updates, go to http://www.montereywharf.com or call (831) 238-0777.