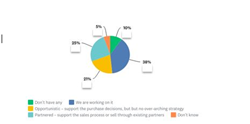 We believe that perhaps the biggest net finding of the survey is that there has never been a time when manufacturer/retailer collaboration has been so paramount.
NEW YORK (PRWEB) January 15, 2018
The Promotion Optimization Institute (POI), the leading resource for trade marketing and merchandising executives, today released the POI 2018 TPX and Retail Execution Report during NRF 2018. The POI report found that 82 percent of consumer products manufacturers are concerned about Amazon and other ecommerce major players –such as Tabao and Alibaba—and the perceived threat these ecommerce players pose to their own businesses. In addition, the report found that 50 percent of consumer products manufacturers reported that they lack ecommerce capabilities and strategy.
The annual POI 2018 TPX and Retail Execution Report focuses on the intersection of the people, processes and technologies required to be a suitable collaboration partner in the promotion and distribution of consumer products. This report utilizes the data and insights from the POI 2018 Trade Promotion and Retail Execution Survey executed in late 2017 and early 2018 to discuss where consumer goods manufacturers are succeeding and struggling. The POI's survey analyzes 1) trade promotion management --particularly, how manufacturers sell at the headquarters level of retailers—and 2) retail execution --which focuses on selling and executing programs at the individual store level.
"We are excited once again to have this deep insight into the market through the annual POI survey. We saw some improvement in key metrics in areas related to trade promotion, while retail execution slipped slightly," said POI Partner Dale Hagemeyer.
"We also saw progress in efforts to combine digital with traditional trade promotion. This, along with some advances in ecommerce that we are measuring, can serve as a bulwark against pure e-channel players such as Amazon, which the survey shows to be of much greater concern to do business with than Walmart ever was. We believe that perhaps the biggest net finding of the survey is that there has never been a time when manufacturer/retailer collaboration has been so paramount."
Key Findings:

Eighty-two percent of those surveyed are concerned about their ability to profitably do business with Amazon and this far outstrips their concerns related to doing business with Walmart. This is an increase of eight percent over 2017.
The lack of linkage between digital and traditional promotion is still substantial but improving over 2017. Fifty-one percent of those surveyed in 2018 reported they were lagging behind compared to 58 percent in 2017. POI now has the data to show where consumer goods companies are on their journey to 'fully integrated'.
Thirteen percent of those surveyed reported they are already working on Artificial Intelligence (AI) in TPx and retail execution and 25 percent expect to be working on AI within two to three years. A full 17 percent of respondents don't see AI happening at all.
Data is still king. The survey results show that retailers are looking for more ways to make money by charging for their scanner data, or else denying access altogether.
Satisfaction about the ability to manage promotions increased 2 percent for the first time in the history of the POI survey, while satisfaction with retail execution fell 2 percent.
Consumer goods manufacturers continue to be less interested in how a technology is delivered to them. Preference for on-premises solutions actually grew in some areas while cloud declined. The biggest change from last year was for "no preference" around how a technology is delivered.
The POI 2018 TPX and Retail Execution Repor t also tracked eight key implications that POI uncovered in the 2017 report. In comparing 2018 against 2017, POI found a mix of both improvements as well as declines, including:

Manufacturer and retailer collaboration remains strained but has improved slightly. In this year's survey, 81 percent surveyed reported having data issues compared to 86 percent in 2017. However, 90 percent reported having compliance issues both in 2017 and 2018.
User organizations continued to select the wrong tools for the job with only 35 percent reporting that their off-line needs are met. Fifty-four percent do not have the option to bring their own devices in retail execution.
Change management issues continue to abound for solution users. Eighty-three percent have challenges training and supporting new TPx users and 88 percent report have difficulties getting TPx users to trust what they see in the system.
Shortfall in analytical capabilities (both on the people and tool aspects). Ninety percent reported having challenges moving capabilities from transactions to analytical compared to 90 percent in 2017. Sixty-three percent reported that post-event analytics are not automated which is a four percent drop from 2017.
Integration issues remain a big problem with 84 percent saying they have issues, a one percent improvement over 2017.
Sixty-eight report they have challenges selling profitably to Walmart and 82 percent reported they have concerns about doing business with Amazon.
"Since our inception, POI has been passionately committed to developing and continuously improving educational and research excellence as we strive to ensure our research links to our members' initiatives for profitable growth, collaboration with industry and the subject matter experts that make and execute business decisions, and delivers strong outputs and advancement activities," said Michael Kantor, CEO and Founder, POI. "This POI Annual "State of the Industry" report builds on these principles, and we believe will serve our members and constituents in building their business case for change."
About the Promotion Optimization Institute
POI brings together manufacturers, retailers, solution providers, analysts, academics and other industry leaders. Members of the POI share cross-functional best practices in both structured and informal settings. Additionally, members benefit through our industry alliances, the Certified Collaborative Marketer(CCM) ™ curriculum and certification, global industry leadership events, and the Promotional Collaborative Capability Matrix (PCCM). POI aims to instill a financial and metrics-based discipline not typically found with other trade groups.
The goal of our innovative approach is collaborative promotion optimization. The focus is on the customer/shopper through sales, marketing, and merchandising strategies. POI is based in Wyckoff, New Jersey. To learn more about the POI, including how to participate in research, how to register to attend or sponsor events, and how to engage with leaders on the CCM, visit http://www.poinstitute.com/ or email Mkantor (at) P-O-I (dot) com.
The Certified Collaborative Marketer (CCM) ™ is a trademark belonging to the Promotion Optimization Institute. All other trademarks are the property of their registered owners.