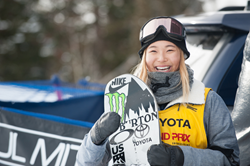 Aspen, Colorado (PRWEB) January 13, 2018
Monster Energy congratulates Chloe Kim whose dominance in the sport of women's halfpipe snowboarding continued with a second place finish at the second to last Olympic qualifier at Snowmass Mountain.
Though Kim's spot on team USA is secure, she still chose to compete, which is curious given the delicate nature of such an important season. While many riders would have spared themselves the travel, chosen to hang out at home and not risk injury, Kim, as she has shown many times before, is of a different class.
As the day kicked off, an international field of women riders lined up atop the 22-foot superpipe on Snowmass Mountain just outside the storied Rocky Mountain town of Aspen, Colorado. Despite a fresh blanket of snow the day before, temperatures were relatively mild as the sun shown down on the immaculate competition grounds. In this, fourth of five Olympic qualifying events, many riders had yet to secure spots on their respective teams and one can imagine, the crisp, thin air was tense. Kim however, was anything but.
Dropping sixth out of eight riders and wearing a distinctly different, yellow bib, which signified her as the leader in the World Cup ranking for the season, Kim scrubbed her first run washing out on her second hit. Throwing her hands up she was still all smiles as she made her way down the pipe and prepared for her next two runs.
Her following run was Kim in about second gear, still making her way down the pipe with a flow the other women simply do not posses. With one run to go, and visibly holding back she still landed tentatively in second place.
On Kim's third run she upshifted just slightly firing things off with a clean method air on her backside wall — not only did she float it higher but she did it with more style and composure than anyone else. Next, she wound up for frontside 1080 traveling not only overhead, but a good 30-feet down the pipe. On her third hit she opted for a switch frontside seven before lining up a frontside 540 on her frontside wall. She then finished off the run with a classic McTwist, one of the most respected tricks in the history of halfpipe snowboarding.
For her effort she earned an 88.75 from the judges, beating her second run score and securing second place.
Though we may have seen more dazzling completions from Kim, who is the only women snowboarder to ever link up back to back 1080's, todays event was in some ways equally impressive. For this was Kim just having fun. She appeared to ride as though she was simply lapping the pipe back home in Mammoth — cruising, smiling and just having a good time. If that kind of riding earns her second place against the best in the world, what happens when she throws it into full gear?
With just one more qualifier next weekend in Mammoth Mountain, California before the X Games at the end of the month, we may get to see young Kim have some more fun before things get real in Pyeongchang, South Korea when the Olympics kick off on February 9th.
Download photos for editorial use.
For more on Kim and the rest of the Monster Energy snowboard team visit http://www.monsterenergy.com, and follow Monster Energy on Facebook and Instagram.
###
About Monster Energy
Based in Corona, California, Monster Energy is the leading marketer and distributor of energy drinks and alternative beverages. Refusing to acknowledge the traditional, Monster Energy supports the scene and sport. Whether motocross, off-road, NASCAR, MMA, BMX, surf, snowboard, ski, skateboard, or the rock and roll lifestyle, Monster Energy is a brand that believes in authenticity and the core of what its sports, athletes and musicians represent. More than a drink, it's the way of life lived by athletes, sports, bands, believers and fans. See more about Monster Energy including all of its drinks at http://www.monsterenergy.com.