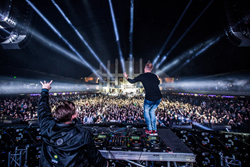 "This is a project that 99.9 percent of people would be scared away from."
Minneapolis, Minn. (PRWEB) January 15, 2018
A savvy commercial developer today vowed that his Minneapolis Armory, a historic yet aesthetically challenging piece of property that won a leading role as a prime entertainment venue in the days leading up to Super Bowl LII, will capitalize on that world stage exposure and become an ideal landing spot for an array of attractions.
Ned Abdul has made a name for himself by taking diamonds in the real estate rough and buffing them until shiny enough to attract willing suitors or to keep for his own portfolio as operator of Swervo Development Corporation.
His newest gem is the Minneapolis Armory, built more than 80 years ago in that classic Americana-style found all around the country, where the U.S. military organized its forces and the equipment to support them.
Once the Minneapolis Armory received its honorary discharge, the high-arching blondish-brick fortress served many purposes ranging from being the home of the NBA's championship-winning Minneapolis Lakers (now known as the L.A. Lakers) to hosting music video shoots by Prince and Aerosmith to an exhaust-filled parking lot, where upkeep was an afterthought.
With the NFL Championship Game being played in Minneapolis this year, Abdul gussied up the neighboring Armory and has attracted some of the entertainment world's biggest names to perform for thousands of people mingling about for days in the Twin Cities up to the Feb. 4 crowning of an NFL champion.
Abdul's Swervo Development is partnering with Nomadic Entertainment, one of the nation's leading producers of the biggest and most lasting premium entertainment events, to present Jennifer Lopez, Imagine Dragons, and P!nk among others for concerts in the days leading up to the big game.
"Ned has taken a historical property and made it the perfect venue to host A-list talent, providing a platform for corporations to engage in stunning activations and hospitality while not sacrificing the experience for concert goers," said Jack Murphy, president of Nomadic Entertainment. "I've been producing premium nightlife experiences and events for decades and Ned's vision and collaboration will make The Armory among the most exciting venues we've utilize to entertain fans and corporations."
Abdul bought the Armory in 2015 as part of his longtime practice of enhancing underappreciated downtown real estate. He rejected the Historical Tax Credit funding option of accepting public dollars and the regulatory strings that come with such a subsidy.
"We took a building that was so tired, in a city that we care about, and made it into something that Minneapolis can be proud of," he said. "The Armory has the potential to be a great asset for us and the Twin Cities. This building has personality. For a building of this size (300,000 square feet counting the space for parking), and combined with the amount of detail that has been put into the restoration, things are only going to get better."
Speaking like a proud father, Abdul glowed about how the Armory fills a gap among entertainment venues around the Twin Cities. There are smaller locales such as the theaters on Hennepin Avenue and the massive major pro sports arenas and stadiums. In between, the choices are almost impossible to find, he said.
"It's a unique size," said Abdul, who has for years had a keen for vintage and neglected structures such as the Armory in prime densely populated locations. "To have a building with a clear column free span of 250 to 300 feet in the middle of a downtown central business district of a metropolitan city is extremely rare. I gloat that we were able to keep the historic fabric of the building. This is the attraction, really."
Scanning the horizon beyond the Armory's fortunate role in connection with the big game, Abdul said he is excited "about what the future holds. We're going to enter into a few strategic partnerships with a few genres of entertainment. We see lots of these types of events going forward because we have the room."
Abdul is confident that the global exposure about to come to the Armory thanks to the game and Nomadic Entertainment's top-shelf talent will energize a building many had given up on as little more than a place to park.
"You have to have vision, but you also have to have guts," he said. "This building couldn't be torn down, and we couldn't do anything with the exterior. This is a project that 99.9 percent of people would be scared away from."
***Attention editors and reporters – to help supplement your stories about the historic Minneapolis Armory project – video and digital photo files are available upon requests.
About Swervo Development Corporation:
Ned Abdul of Swervo Development Corporation owns, operates, manages, and leases several buildings in the Downtown Minneapolis District as well as many other properties in the Twin Cities area and in other major markets outside of Minnesota. Swervo Development Corporation, which also operates under the name Swervo Holdings, is located in Minneapolis, Minnesota.
For more information go to http://mplswarehouse.com/member_dir/swervo-development/
# # #