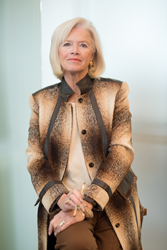 SEATTLE (PRWEB) January 15, 2018
Haute Residence welcomes prominent real estate agent, Hedy Joyce to its prestigious network of top brokers. As a Haute Residence partner, Joyce exclusively represents the high-end real estate market on Mercer Island, Washington.
Whilst Joyce's primary area of concentration is Mercer Island, her expertise extends to both Seattle and the Eastside markets. Her clients – as well as peers – cherish her vitality, integrity, dedication and the sense of humor she brings to the profession. As an honest and skilled negotiator and communicator, Joyce finds strategic plays to arrive at the best situations for her clients – sellers, buyers, and investors.
Some 15 years of in-depth knowledge of the local market and her unique "out-of-the-box" approach to locating, negotiating and facilitating transactions have enabled her to stand out amongst her peers.
Joyce's marketing acumen, together with her home staging expertise, ensures superb representation for sellers. Her personal experience of having moved internationally positions her as an excellent resource for home buyers relocating to this area.
Joyce's skill set comes from a veritable mix of past professional work: sales manager for an international company, associate professor of Speech and Theatre at New York University; including a couple of years with a Microsoft marketing team promoting new platforms.
In 2015, Joyce ranked the 17th broker within Coldwell Banker Bain, Washington and, for 11 consecutive years, has been awarded the Best in Customer Satisfaction by Seattle Magazine.
Having arrived in Mercer Island with her family from Europe via Connecticut, Joyce instantly fell in love with Mercer Island. The Island has shifted its character from weekend getaway for the Seattleites to residential neighborhood due to its unique location between Seattle and the Eastside.
Joyce's passion for "all things real estate" radiates to all who come in contact with her.
About Haute Residence:
Designed as a partnership-driven luxury real estate portal, Haute Residence connects its affluent readers with top real estate professionals, while offering the latest in real estate news, showcasing the world's most extraordinary residences on the market and sharing expert advice from its knowledgeable and experienced real estate partners.
The invitation-only luxury real estate network, which partners with just one agent in every market, unites a distinguished collective of leading real estate agents and brokers and highlights the most extravagant properties in leading markets around the globe for affluent buyers, sellers, and real estate enthusiasts.
HauteResidence.com has grown to be the number one news source for million-dollar listings, high-end residential developments, celebrity real estate, and more.
Access all of this information and more by visiting: http://www.hauteresidence.com