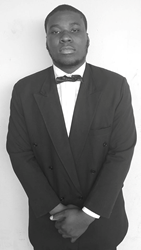 Install Nickzom Calculator+ and see the magic.
(PRWEB) January 16, 2018
Idoko Nicholas Chinazom is a first class graduate of Electrical/Electronic Engineering, Federal University of Technology, Owerri, Nigeria. He is the founder and CEO of The Nickzom Empire. When asked why he added "Empire" to the name of his company, he said he has always loved the Romans as a kid. He loves watching movies about Rome which led him to read books and articles about the Roman Empire and one day hoped to have his own empire. Nicholas claims to have started developing his virtual teacher calculator encyclopedia app since December, 2013.
When asked how he came about the idea, all he could say were two words which were "My Sister." after awhile he said around October/November, 2013 ASUU (Academic Staff Union of Universities) - Nigeria was on strike so he was at home and not in school. He said he loves Mathematics and his siblings always came to him for guidance whenever they have a problem understanding their math work but his younger sister always had bad timing in approaching him for aid and he just could not say NO. The young Nigerian said sometimes he used to think she was doing it on purpose, because she came right when he was in the middle of playing a video game, chatting, listening to hardcore rap music or having a good time. So, one day, she brought a math problem on surd while he was playing FIFA video game, He lost concentration trying to joggle the both activities and he was scored. It hurt him so bad, He started wishing in his mind that there was something like Wikipedia for calculations where one can just go to the site, enter the values, click on calculate and it would solve everything for him or her while showing the steps. That was when it hit him that he had just learnt Java and web technologies and there was a desktop computer at home. So, he took the night off to write the code to solve math problems on surd and show the steps carefully like a teacher would do. The next morning when he was done he told her to give it a try. Nicholas simply stated "IT WAS AMAZING". He said she used the app without his assistance and it taught her how the calculations were solved and how the answer was obtained, she loved it and for a week, she did not ask him to help her solve or teach her any math problem on surd. Whenever she needed guidance, she used the computer. So, when a new math topic arrived he would code it and she would use the computer. He finally said he remembered showing it to his friend, Bright who loved it and requested some calculations be added to the app for him too and that's how it all began.
Nicholas Idoko said he decided to take up the project to develop such a platform on December, 2013 and he now has a small team of great individuals working with him in developing the app.
The Nickzom Empire has Nickzom Calculator - which is free exclusively on Google Play Store for users to familiarize themselves with its limited contents whereas there is Nickzom Calculator+ which is the professional, unlimited and always-in-update product available worldwide on both Google Play Store and Apple App Store for a fee on Android and iOS devices.
Nickzom Calculator+ can solve over 20,000 calculations and also show the steps right up to the final answer ranging from financial, IP Subnet, Age, Date, Timezone, Time, Health/Fitness, Number Bases, Mathematics, Physics, Engineering, Chemistry, Economics, Accounting, Unit Conversion calculation problems.
How Does Nickzom Calculator+ Work?
It is quite simple really. One selects a section or passes through the map of the calculator at the home view, clicks on the calculation problem he or she wants to be solved, navigates to the exact parameter he or she desires to find, enters the appropriate values and finally clicks on the calculate button. Nickzom Calculator+ handles the rest by generating the formula, steps and answer to the calculation problem in a very structured manner. All operations in the app is offline. So, there is no needed for internet connection, once the app is obtained.
Nickzom Calculator+ is available on these platforms:
Google Play Store - https://play.google.com/store/apps/details?id=org.nickzom.nickzomcalculator
Apple App Store - https://itunes.apple.com/us/app/nickzom-calculator/id1331162702?ls=1&mt=8