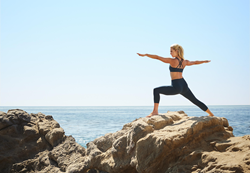 JW Marriott shares in our mission to make fitness more accessible, and with our technology, we're able to bring Nora Tobin's expert guidance to JW Marriott guests worldwide.
MINNEAPOLIS (PRWEB) January 16, 2018
JW Marriott Hotels & Resorts recently announced its partnership with Nora Tobin, naming the health and wellness leader as the brand's Wellness Ambassador. This partnership stems from JW Marriott's commitment to the guest passion of well-being, offering busy business and leisure travelers alike new ways to live healthy, fulfilling lives on the road. The collaboration introduces elevated and approachable ways to exercise both body and mind.
"I am honored to be named as JW Marriott's Wellness Ambassador and look forward to sharing my knowledge of fitness and nutrition with the JW Marriott guest, providing approachable wellness experiences, programs and products created to obtain optimal health without deprivation," said Nora Tobin. "From in-room dining menus to one-on-one consultations and personalized sessions to extraordinary retreats, our partnership will make it even easier for JW Marriott guests to stay active and feel great while traveling."
Among the various guest experiences rolling out throughout 2018 is a series of guided fitness videos, filmed on-location at JW Marriott resorts. These travel-oriented videos are powered by Fitness On Demand™ and are accessible in-room and in-studio at select properties as well as available to all JW Marriott guests on the brand's website and through the Fitness On Demand™ iOS and Android mobile apps.
"We are pleased to be a part of this initiative with JW Marriott", said Garrett Marshall, Divisional CEO, Fitness On Demand™. "JW Marriott shares in our mission to make fitness more accessible, and with our technology, we're able to bring Nora Tobin's expert guidance to JW Marriott guests worldwide."
Ranging from three to 30 minutes in length, these videos are tailored to an array of fitness levels and cover a range of formats including everything from Yoga to HIIT.
About Fitness On Demand™
Fitness On Demand™ is a Minnesota-based market-leading developer of fitness delivery products for media and programming. Since 2011, Fitness On Demand™ has allowed facilities around the world to deliver premium fitness programming to their users. Through innovative video delivery systems, they offer robust content and flexible audiovisual integration, along with a comprehensive web management tool that enables any facility to instantly offer fitness solutions that optimize space, streamline operations, and offer unparalleled variety. Learn more at Fitness On Demand online.
About JW Marriott Hotels & Resorts
JW Marriott is part of Marriott International's luxury portfolio and consists of beautiful properties and distinctive resort locations around the world. These elegant hotels cater to sophisticated, self-assured travelers seeking The JW Treatment™ – the brand's philosophy that true luxury is created by people who are passionate about what they do. JW hotels offer crafted experiences that bring to life the brand's commitment to highly choreographed, anticipatory service and modern residential design, allowing guests to pursue their passions and leave even more fulfilled than when they arrived. Today there are nearly 80 JW Marriott hotels in over 25 countries and territories. Visit JW Marriott online to learn more.
About Nora Tobin
As a spokesperson and well-being ambassador for JW Marriott, Nora utilizes her diverse experience in the health and fitness space to create luxury programs, events and multi-media. Nora is a celebrity trainer and lifestyle coach, and is certified as a Performance Enhancement Specialist and Nutrition Specialist. She is also certified in advanced scuba, cliff, helicopter, zodiac and river rescue. In addition, Nora is an editorial contributor and on-air personality for SHAPE, Sports Illustrated, Women's Health and Variety. She has created wellness programs and hosted numerous wellness events for premium brands and Fortune 500 companies, and is co-creator of the nutrition line Busy Bar, as well as a portable total gym and ab device. Nora is a South Lake Tahoe native whose adventures have taken her around the world skiing, mountaineering, rock-climbing peaks and competing in beach volleyball. For efficient workouts, delicious recipes and healthy travel tips, visit Nora's blog Kale, Cardio and Cocktails to learn more.