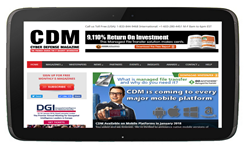 Free Information Security Knowledge Unleashed on Mobile Platforms
NASHUA, N.H. (PRWEB) January 16, 2018
Cyber Defense Magazine (CDM), the industry's leading electronic information security magazine and on the heels of Martin Luther King Jr Day unleashes no-cost mobile applications for all major platforms – for Amazon Kindle, Apple iOS, Google Android and Microsoft Windows smartphones, tablets and computers.
"Knowledge is empowering. We are so thrilled and honored, following such a special day, to say our Mobile Apps are available and free, at last," said Gary S. Miliefsky, Publisher. "With over 100,000 job openings in information security, here in America, there is no greater time for the underprivileged and those in inner cities to focus on cybersecurity as their career path and for financial independence."
Links to each mobile app platform download can be found here:
http://www.cyberdefensemagazine.com/cdm-available-on-mobile-platforms-in-january-2018/
As always, there are no strings attached. We never sell your information and you can read over 5 years of monthly e-mags and growing. With over 1.2M annual readers on our website, we listened – you asked for a mobile app and we developed one.
Some of the features in the CDM mobile app include:

Read Infosec Daily News – stay one step ahead of the next threat.
Signup for Complementary Monthly e-Magazines delivered into your email.
Read over 5 years of great content – the best of the best in cyber.
Browse our Website inside the mobile app.
Share and see what we are sharing on social media each day.
Play with cool pocket gadgets for mobile productivity.
Visit special sponsored links with great offers.
Learn about our Publisher Gary S. Miliefsky, a cybersecurity expert.
Contact us either over the phone, through postal mail or email.
CDM's Publisher, Gary Miliefsky is a member of Phi Beta Cyber which is a group of cybersecurity experts who have made a commitment to visit high schools and share how important focusing on this field and looking for future jobs in cybersecurity are for the next generation.
About Cyber Defense Magazine
Cyber Defense Magazine is the premier source of IT Security information. We are managed and published by and for ethical, honest, passionate information security professionals. Our mission is to share cutting-edge knowledge, real-world stories and awards on the best ideas, products and services in the information technology industry. We deliver electronic magazines every month online for free, and limited print editions exclusively for the RSA conferences and our paid subscribers. Learn more about us at http://www.cyberdefensemagazine.com.